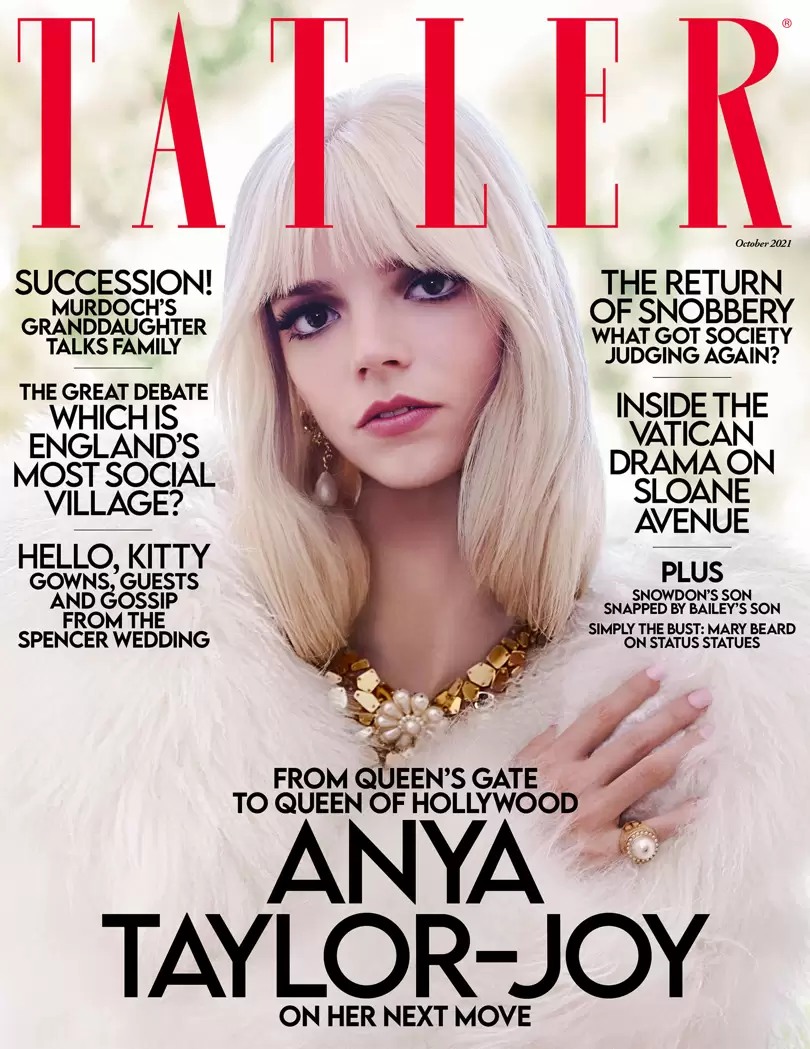 Anya Taylor Joy covers the October issue of Tatler. She's promoting Last Night in Soho, the freaky-looking horror-thriller where she plays a jazz singer in the swingin' 1960s in London. Anya works a lot and has worked consistently for years, which has given her the vibe of an older actress and a veteran actress, even though she's only 25. She chatted with Tatler about the movie, the paparazzi and of course, how much she loves Argentina. She spent years of her early childhood in Argentina and she still talks about it like she would do anything to go back there permanently. Some highlights:
Last Night in Soho: 'That film was the first time I ever wore white boot. Now I live in them.'

The hidden history of Last Night in Soho: 'Our version of London is presenting you with the fine line between downtown where your dreams will come true and a full-blown nightmare that is difficult to get out of. We've all had moments when we've been at a party, met somebody and thought, "Oh, this is wonderful, this person is really kind and we're really vibing," and then seven hours later you're like, "Oh, this person's horrible and I no longer want to be in this situation."'

What she learned in her research of the '60s scene: 'Andy Warhol and Edie Sedgwick were really only active and working for about a year and a half, which blows my mind. It feels like it was this big expansive time and so influential – yet it was a flash in the pan. And 1960s London was like that.'

Her early childhood in Argentina: Leaving Argentina 'broke all of our hearts. It's such a sacred world to all of us.' It wasn't until she was 14 that she came to appreciate what her parents had done for the family by moving to the UK. 'I apologised to them because I started to understand the opportunities in London. I had the autonomy I wouldn't have necessarily been afforded in Argentina, so I was very grateful for that.'

She hated being a teenager: 'I was just very insecure and deeply unhappy…. When you're a teenager, your feelings are so dramatic, you don't think you're going to survive them. Then you make it another 10 years and you're like, "I feel the same level of pain but I've been through it before so I know that it passes. And I understand myself better, so I have the tools to help myself through."'

Filming projects back-to-back: 'I survived on Diet Coke, cigarettes and coffee, and by the end of it, I was like, "I need to eat a vegetable." It can be difficult when you're "young" to not feel guilty about not doing things that other 25-year-olds are doing and that can be a bit of a headf**k.'

She has fun but it's mostly about work: 'I still love going out and being around people, but now my work is taking up so much of my energy, I have to be a lot more careful because I end up paying for it. I don't have time to be a 25-year-old with a hangover.'

On the paparazzi: 'Well, there are other times when you're just one person facing off against 20 and that's just physically not safe. It can be very frightening when there are whole bunches of men with cameras attached to their faces running after you down the street.' This happened on a recent trip to New York when she was hosting Saturday Night Live. 'I went home and cried, but then I figured it out. The next morning I went out and I said, "Hello, my name is Anya. Let's lower down the camera and let's meet." I am not prey. I don't want to run. I'd rather be like, "I understand this is your job and I hope that you can understand that I am a woman of a certain size and I feel intimidated right now, so can we make it work so you can do your job and I can feel less frightened?"'
[From Tatler]
That's a mature way to handle the paparazzi, but I do get scared for actresses when they're in the middle of a paparazzi swarm. It must be so scary to be young and alone (as in, no security) when that happens. As for surviving for a year and a half on Diet Coke, cigarettes and coffee while working on back-to-back projects… I appreciate her honesty? Most actresses are like "oh, water and meditation, that's how I stay thin!"
https://www.instagram.com/p/CTE3KFjguwl/
A post shared by Tatler (@tatlermagazine)
Cover & IG courtesy of Tatler.
Source: Read Full Article