After being called out for exposing the Canadian star's dad Dennis Graham for the inappropriate act, the 'I Am' raptress appears to defends herself as tweeting, 'Why would I lie?'
AceShowbiz – Baby Tate had an uncomfortable encounter with Drake's father, if her words are to be trusted. According to the female rapper herself, Dennis Graham, who is better known as the father of the Canadian superstar, grabbed her butt at Doja Cat's recent birthday party.
On Wednesday, October 20, Doja threw an early birthday celebration with a wet and wild undersea-themed bash at Delilah in Los Angeles. Baby Tate was among the guests at the party, along with other celebrities like Normani Kordei, Billie Eilish, Winnie Harlow and Karrueche Tran.
On Thursday, Baby Tate showed some moments captured at the event as she took to Instagram to share several photos and videos of her taken at the party. One of the images featured her posing with Drake's father, Dennis.
"Happy Birthday Dojaaaaa," she wrote in the caption. "blessed was the day u popped out ya mama kewchey doin the one two step on dese heaux! Praying God continues to bless you your whole life long. Swipe to hear me being loud af hyping bad btches up."
Baby Tate also posted her picture with Dennis on Twitter. "Last night was mad real," she captioned it.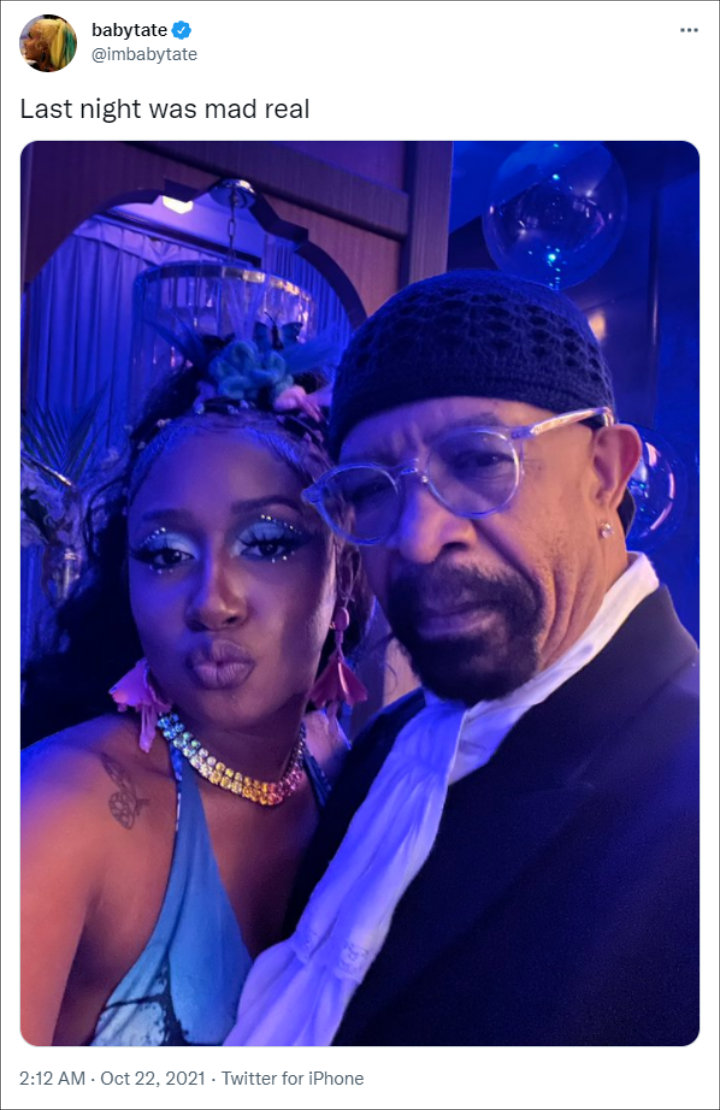 Baby Tate posted a picture with Drake's father, Dennis Graham.
While she put the highlight on the birthday girl on her Instagram post, Baby Tate later dropped the shocking accusation on the blue-bird app. "Drake daddy grabbed my ass just remembered," she allegedly wrote in a now-deleted tweet.
When her supposed tweet was reposted on OnSite's account, she claimed that it was edited. "Why did y'all photoshop this tweet," she confronted the account's handler.
Later, a fan revealed what the "I Am" raptress actually wrote on her tweet. "drake daddy def grabbed my a$$. I just remembered," so it read. While the edit didn't change the meaning of her original post, Baby Tate commented, "but still weird lol and unnecessary."
Some people later called out Baby Tate for seemingly trying to throw Drake's father under the bus. "girl bye. What's weird is that you even wrote this. And then said they photoshop your tweet as if the tweet was even ok," one baffled user reacted to her confession. Another commented, "Not just remembered."
A third speculated, "Weird flex but okay. Next thing you know they gone try to 'me too' movement OG triple OG smh." Someone else alleged, "Y'all tryna Cosby him too huh." Another questioned Baby Tate's motive as saying, "But what are you saying SIS cuz if you didn't say anything to him don't get on here to tell us s**t now go head on fr."
Baby Tate later appeared to defend herself as she tweeted, "Why would I lie?"
Dennis, meanwhile, has not responded to her claim.
Source: Read Full Article