Dog The Bounty Hunter is lost and confused without his late wife Beth Chapman.
The Dog's Most Wanted star sat down with ET at his Colorado home for a candid chat about life after the death of his beloved wife, who passed away last month after a long battle with cancer.
While it's certainly been an emotional time for the reality star (real name Duane Chapman), Dog said he's trying his best to "man up" and be there for the rest of his grieving family. 
He explained to Kevin Frazier:
" new experience that you have, you don't know how you're doing because you've never experienced it. I have a lot of people who depend on me. All my supervisors said, 'Dog, it's time to man up.' So I'm trying to man up."
Easier said than done, when you've lost the love of your life.
Dog went on to explain Beth had tried to prepare him for the possibility that she would no longer be by his side, and made sure they both agreed on one thing: she was irreplaceable.
He revealed:
"For two to three years, she knew this might happen. So she would say, 'Who is going to sit next to you?' And I said, 'No one.' 'Big Daddy, you better not let another girl take my place.' I said, 'I won't.'"
He's keeping his promise, too, as he stressed to the outlet:
"There is not another Beth. There'll never be another Beth. There ain't a girl built like another Beth."
Awwww.
The famed bounty hunter also revealed how both he and his wife needed therapy to deal with the reality of their situation after her health took a toll in September 2017, causing her to reveal her cancer diagnosis to close friends and family.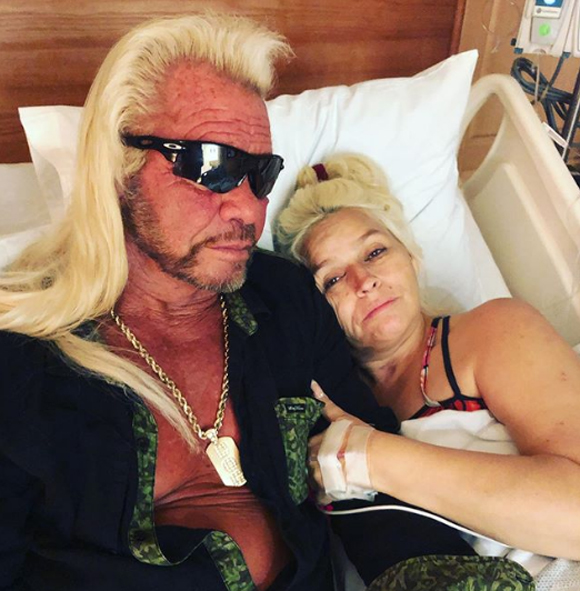 Recalling this "hard" period of time for them as a couple, he said:
"I needed therapy and the therapy she used when she was sick was to hunt. Her therapy, you know, was hunting, bounty hunting, catching the bad guy." 
Although he was prepared for the awful possibility of life without his partner, Dog said he refused to let Beth go in the final moments leading up to her death — until she gave him a devastating reality check. He remembered:
"The last few moments she said, 'Come in here right now, in the bathroom.' I went in and she said, 'Look at me.' And I said, 'Yeah, you're freaking beautiful baby.' 'Look at me, Duane Chapman.' And I did, I always saw Beth and she said, 'Please, let me go.'"
Wow.
Video: Dog Shares Sweet Clip Of Beth Singing Bruno Mars
Dog didn't have much time to react before Beth was rushed to the hospital for the final time. He continued:
"And I didn't even make a decision, I almost said, 'I can't.' Before I could say, 'Alright,' she couldn't breathe and I called the ambulance… But everyday she talked as if she was not there. 'Here's what to do with this, here's what to do with that. Don't keep running your mouth. When they ask you a specific question, just answer that.'"
Despite Beth's best efforts to prep him for the inevitable, the star said her death still shocked him to the core:
"So, prepared? No, you're never, ever prepared. You can't prepare. There is no way. I did not know that this was going to happen that day."
It's definitely been a struggle for Dog to move on with life after her passing, but he insists she's not gone completely — especially when he's on set filming their upcoming reality show:
"Even though she is not physically there, mentally and spiritually she is there." 
Our hearts go out to Dog and the rest of the Chapman family as they continue to grieve.
Source: Read Full Article