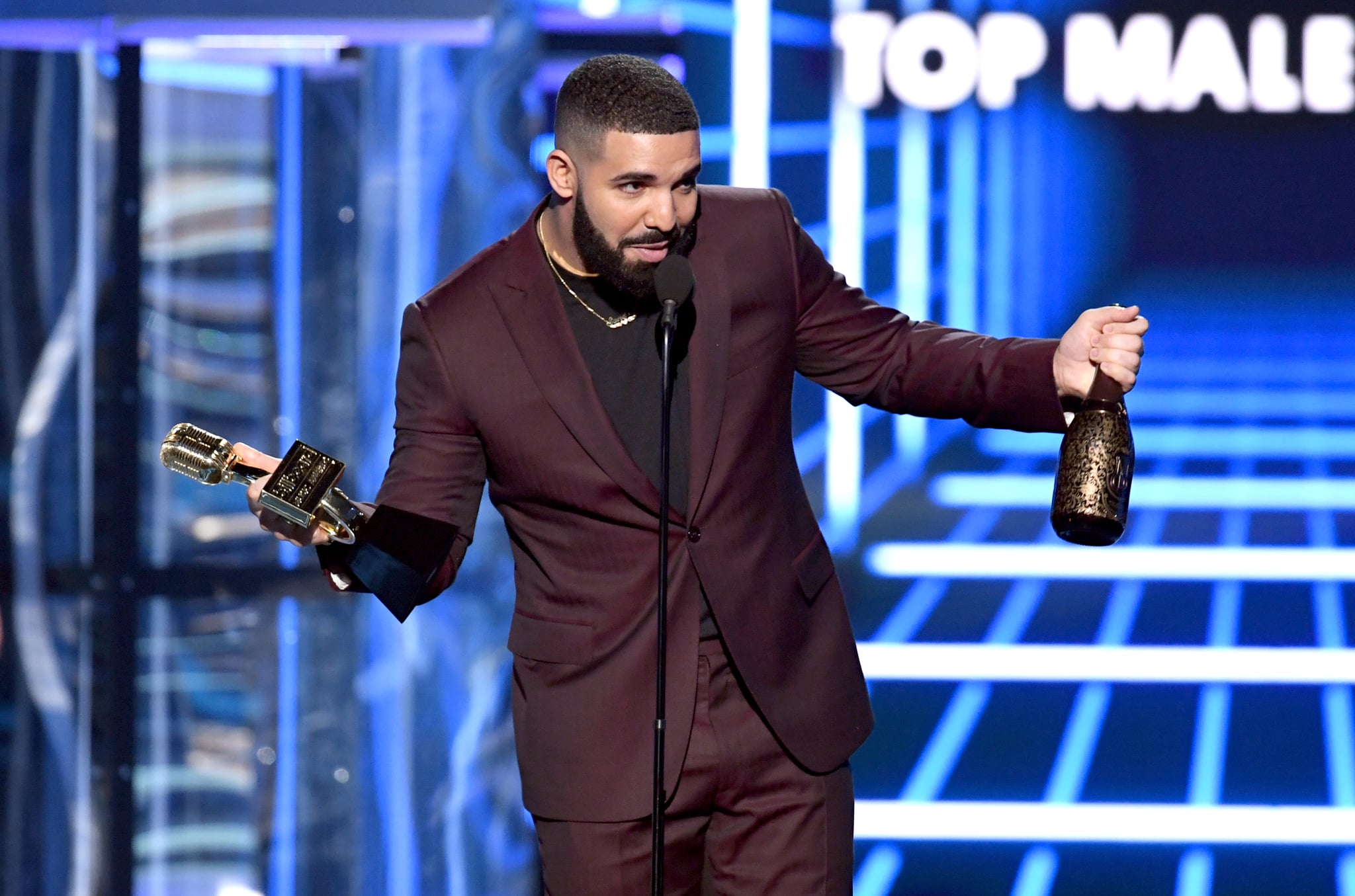 There's no doubt about it: Drake is one of the most influential names in music — and one of the richest, with a net worth of $150 million. Over the years, he's amassed a string of hits that put him on par with the best in the industry, and he just keeps churning them out. As it turns out, he's not just on par with top names musically and creatively speaking — his net worth has recently increased substantially, putting him on par with them financially as well.
According to the most recent ranking from Forbes, Drake's net worth is $150 million as of 2019, and his earnings in the past year alone total $75 million. This massive income places him at number 25 on the ranking of the 100 highest-paid celebrities in the world right now, sandwiched between Chris Hemsworth and Kim Kardashian West. He's also ranked as the eighth highest-paid musician in the category, surpassed only by some big names: Taylor Swift, Kanye West, Ed Sheeran, The Eagles, Elton John, JAY-Z, and Beyoncé. Impressively, he's even ranked above superstars like Katy Perry, Justin Timberlake, and Rihanna.
Drake's massive 2018 to 2019 year quite literally doubled his net worth, thanks in large part to a highly lucrative tour. In 2018, the rapper teamed up with Migos for the Aubrey and the Three Migos tour, which went to 43 cities over the course of its run. Forbes reported that the tour grossed $79 million, selling 678,410 tickets, plus merch sales. These massive numbers made it one of the highest-grossing tours of the year, falling behind only Ed Sheeran (who grossed $432 million), Taylor Swift ($345 million), and JAY-Z and Beyoncé's joint tour ($254 million).
He had a pretty great 2018 as well. His double album Scorpion, released in July, debuted at the very top of the Billboard charts — where it stayed for five weeks — and that was just the beginning. At the end of the year, Forbes reported the Nielsen numbers for the year, which put Drake's new release as the top album of the year and the song "God's Plan" as the top song of the year. Scorpion reportedly earned 3.905 million equivalent albums units (which includes streaming and other forms of digital music consumption), with 330,000 coming specifically from album sales. "God's Plan," on its own, was one of only four songs to surpass one billion streams, coming in at 1.566 billion audio and video streams in 2018.
Drake had a pretty busy 2018: a tour, a new album, plus a shiny new Las Vegas residency. In May 2018, he began a 10-week residency at the XS nightclub. Hot on the heels of that success, it was reported by The Blast in January 2019 that Drake made a multiyear deal with the nightclub, possibly for over $10 million for at least 10 shows, potentially more.
It's not just music that's helping Drake rake in the dollars. Back in 2016, he launched his own whiskey brand, Virginia Black. When it was first released that September, it broke first-day sales records, according to The Spirit Business: 1,779 bottles in a single day, each one retailing for approximately $35 at the time. The brand has continued to be successful and, in 2018, opened up to allow individual investors in the IPO.
Source: Read Full Article