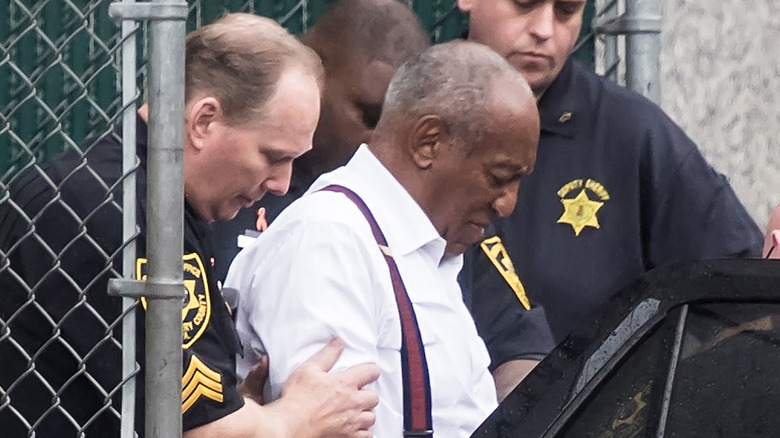 The American people had their world rocked when actor and comedian Bill Cosby, known for so long as "America's dad", stood criminal trial for sexual assault allegations of 60 women (via ABC News and NBC News). It seemed that justice was served for Cosby's victims on September 25, 2018, when Cosby was sentenced to three to 10 years in prison by a court in Norristown, Pennsylvania. However, just this past month on June 30, 2021, Cosby's sentence was overturned. The Pennsylvanian Supreme Court found that, due to an agreement with a prosecutor, Cosby should not have been charged or sentenced in the case.
Family and co-stars of Cosby's have been vocal in their support for him throughout the trial. In a tweet that has since been deleted, actress Phylicia Rashad (best known for playing the role of Clair Huxtable on "The Cosby Show") celebrated Cosby's release saying, "FINALLY!!!! A terrible wrong is being righted- a miscarriage of justice is corrected" (via Rolling Stone). Cosby's wife Camille has stayed loyal to her husband throughout the trial and conviction as well, going so far as to say that the accusations against her husband were similar to the accusations that started the Tulsa Race Massacre in 1921 (via Page Six).
If you or anyone you know has been a victim of sexual assault, help is available. Visit the Rape, Abuse & Incest National Network website or contact RAINN's National Helpline at 1-800-656-HOPE (4673).
Who are the Cosby children?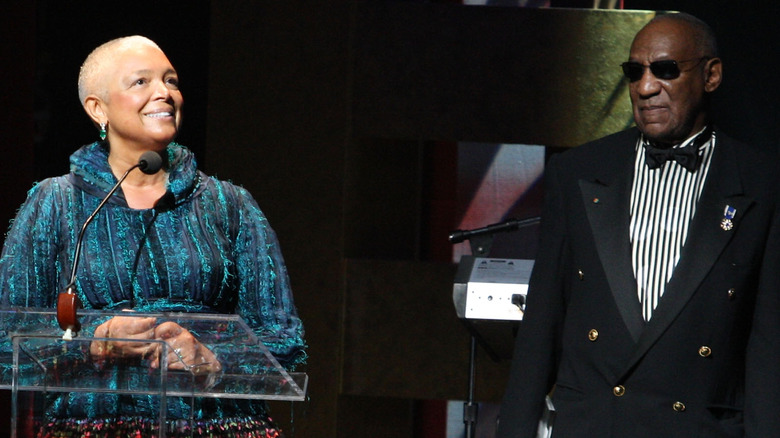 Bill and Camille Cosby have five children together — four daughters Erika, Erinn, Ensa, and Evin, and one son Ennis (via The Sun). Ennis was tragically murdered at age 27 in Los Angeles during an attempted robbery, and Ensa passed away in February of 2018 from kidney failure while she awaited a transplant.
The remaining Cosby children are all artists in their own rights. Erika Cosby, the eldest, is a celebrated contemporary painter, whose works have been featured in Atlanta's SALTWORKS Contemporary Art gallery, the Arlington Arts Center, and more. She is also a former art professor at New York University. Erinn Cosby, 54 years old, is an accomplished photographer, who studied at New York University and has since showcased her photography at exhibits in New York and Philadelphia (via The Philadelphia Inquirer). Evin Cosby, the youngest of the Cosby children at 44 years old, operates mother and baby boutique pb&Caviar in TriBeCa (via People).
What do they have to say?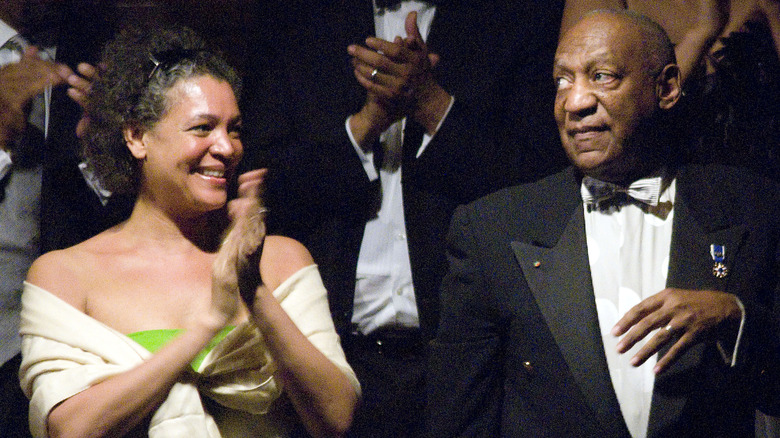 Bill Cosby's children have been supportive of their father throughout his criminal trial and his conviction. Perhaps the most outspoken is youngest sibling Evin Cosby, who penned an open letter defending her father in 2017, which was published in Black Press USA. In the letter, Evin maintains Cosby's innocence, saying, "He is not abusive, violent, or a rapist." She also spends several paragraphs of the letter dismissing the claims of various women who came forward against her father.
Ensa Cosby was a fierce defender of her father's reputation before her death in 2018. Like her mother Camille Cosby, Ensa also believed that racism and racial power dynamics played a large role in Cosby's accusations and sentencing. In a statement recorded before her father's trial, she said, "How my father is being punished by a society that still believes black men rape white women but passes off 'boys will be boys' when white men are accused," she said, "and how the politics of our country prove my disgust." She went on to say her father had been "publicly lynched" by the press (via New York Times).
The Cosby children have united behind their father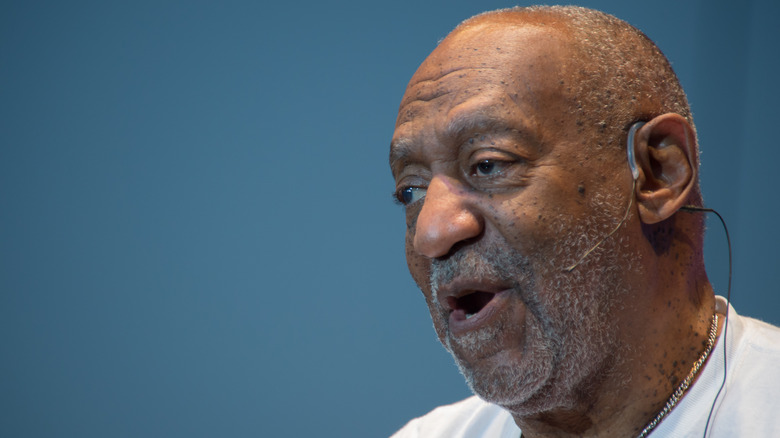 Erinn Cosby has also spoken out in defense of her father, despite their complicated past. Erinn and her father were estranged for a period of time due to her struggle with substance abuse (via Washington Post). Additionally, Erinn and her father grew apart when she accused professional boxer Mike Tyson of sexual assault in the early 1990s. She was unhappy with what was described as Cosby's "clinical" approach to the news. However, in an interview with her sister Ensa for NYC radio talk show "The Breakfast Club," Erinn said that despite her and father's problems in the past, "I love my father and always have and always will. I believe in his innocence and I know in my heart how he values me, my family, and the goodness that is in all people" (via Yahoo).
If you or anyone you know is struggling with addiction issues, help is available. Visit the Substance Abuse and Mental Health Services Administration website or contact SAMHSA's National Helpline at 1-800-662-HELP (4357).
Source: Read Full Article