Prince William and Prince Harry have been at odds for more than a year. Although it's tough to pinpoint exactly when things started going wrong between them, many believe that Harry's decision to step down as a senior member of the royal family was really the beginning, while others have suggested that the brothers had a falling out long before then, according to The Mirror. Either way, William and Harry's relationship has been strained for quite some time now. Even when speaking with Oprah Winfrey back in March, Harry said, "the relationship is space, at the moment," but added that "time heals all things, hopefully," according to The Sun.
Royal expert Robert Lacey has shared a new perspective on the row between William and Harry, writing about it in his new book, "Battle of the Brothers," according to the Daily Mail. In the book, Lacey claims that it was actually William who separated himself from Harry back in 2018 — but for a very specific reason. Keep reading to find out what Lacey wrote about William and Harry's rift.
Meghan Markle named as the root of the problem once more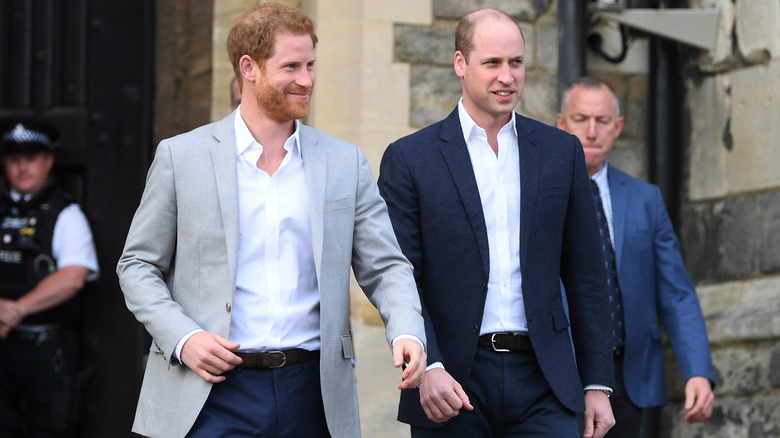 Robert Lacey's book claims that an angry phone call took place between Prince William and Prince Harry that had William hanging up on his brother, and splitting his household, according to the Daily Mail. The reason? Meghan Markle. "William threw Harry out," the book claims. Royal sources allegedly told Lacey that Meghan "played the victim, but was a bully," and that she had an "agenda" — that she had planned on moving to America with Harry all along. A source said that William felt as though Meghan was "stealing his beloved brother away from him."
"Meghan portrayed herself as the victim, but she was the bully. People felt run over by her. They thought she was a complete narcissist and sociopath — basically unhinged," Lacey quotes a Kensington Palace courtier as saying, according to the Daily Mail. This, of course, is not the first time that Meghan has been accused of being a bully by palace staff. In March 2021, a statement was released on Meghan's behalf in response to the claims, calling the claims a "calculated smear campaign." The statement went on to read, "the duchess is saddened by this latest attack on her character, particularly as someone who has been the target of bullying herself and is deeply committed to supporting those who have experienced pain and trauma," according to Entertainment Tonight.
At the time of this writing, Meghan has not yet responded to the claims in Lacey's new book.
Source: Read Full Article