Shortly after the Champlain Towers collapsed, the one-third of Jonas Brothers is photographed giving meals to people who are waiting for news of their missing relatives at Surfside Community Center.
AceShowbiz –Joe Jonas is extending a helping hand to families impacted by the Miami condominium collapse. Proving to be thoughtful about his surroundings, the one-third of Jonas Brothers was seen delivering pizzas to those left devastated by the catastrophe.
On Thursday, June 24, the 31-year-old was captured bringing boxes of pizza to people who were waiting for news of their missing relatives after the Champlain Towers condo collapsed in Surfside. A source told E! News, "Joe arrived with a friend. I don't know how long he [stayed] but more [than] half an hour. He was very low profile."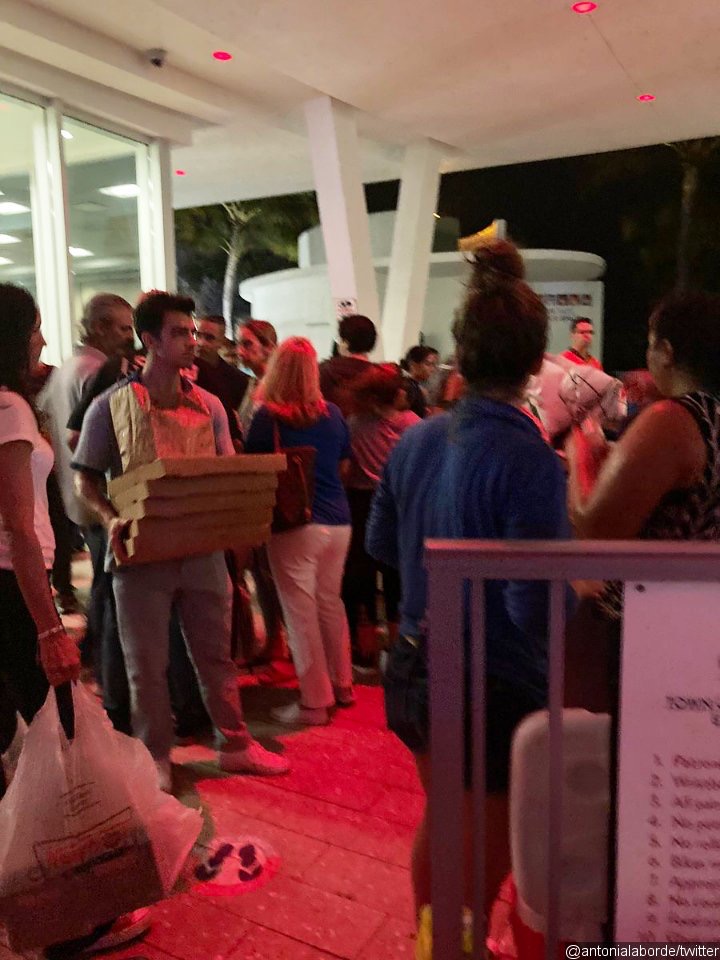 Joe Jonas was captured bringing boxes of pizza at the Surfside Community Center.
"The families were very upset about their [loved] ones. He went to the room where the volunteers were," the source continued. The insider also confirmed that the husband of Sophie Turner appeared at the Surfside Community Center on Thursday, June 24 at 10:30 P.M. local time.
Also offering help to those affected by the tragic incident were Bethenny Frankel and Tyler Herro. "The Real Housewives of New York City" star took to her Instagram to announce that her organization B Strong would work in tandem with Global Empowerment Mission to give $500 to $1,000 to displaced residents from the building and ask her fans and followers for donations.
"We have been meeting with families and are on the ground working intimately, immediately and directly with city officials and victims," the 50-year-old reality star captioned her post. "We are currently coordinating apartments for the victims of this tragedy and will keep updating you as we have more information. This is exactly what we do and precisely where we do it. Please help. We can make a difference. You can be part of the change in the world. Xo and thank you."
In the meantime, Tyler went to the scene to send water bottles and other supplies from a car with his assistant coaches Chris Quinn and Eric Glass. In a video surfacing online, the Miami Heat star could be seen thanking frontline workers for their hard work. For the occasion, the basketball player opted to dress casually as he wore a gray hoodie, shorts, sneakers and a dark hat.
According to NBC News, per Monday, June 28, 10 people have died from the 1981 building's collapse, while over 150 have remained "unaccounted for."
Source: Read Full Article