Despite the backlash that he receives on social media, the 20-year-old Disney actor sends 'love and light' to the Internet trolls as well as his supporters.
AceShowbiz –Joshua Bassett got candid about how harmful it was when people doubted sexual assault survivors. The "High School Musical: The Musical: The Series" star talked about his painful experience when he was sexually assaulted in his childhood and teens in a recent interview with GQ.
"I buried it so far," the actor shared. "And when I was a teen, a much older man routinely abused me, and I wasn't able to see it for what it was at the time." The 20-year-old added that he eventually shared his story on social media as he felt ready to discuss this trauma because it will "hopefully help people who are experiencing that."
However, he received pushback from Internet users. Open person wrote on Twitter, "Men can't be raped it's just a fact. If your a man who claims to have gotten raped go put on a dress." Taking to Instagram Stories to clap back at the person, he wrote on Wednesday, December 8, "And we wonder why more people don't come forward. started when I was 5. you haven't the slightest idea what you're talking about and how damaging it is."
He later shared more derogatory comments which he called "disgusting." One user said, "how is he a man getting sexually assaulted? man up please." Another person, meanwhile, thought that Joshua was "kinda deserved for what he did."
Later in a separate post, Joshua reflected, "I'm unfortunately able to let these things roll off my shoulder and not take them personally. make me the punching bag all you want, just do me a favor: never, ever, ever say such vile things to, at, or about anyone else ever again. we are better than this."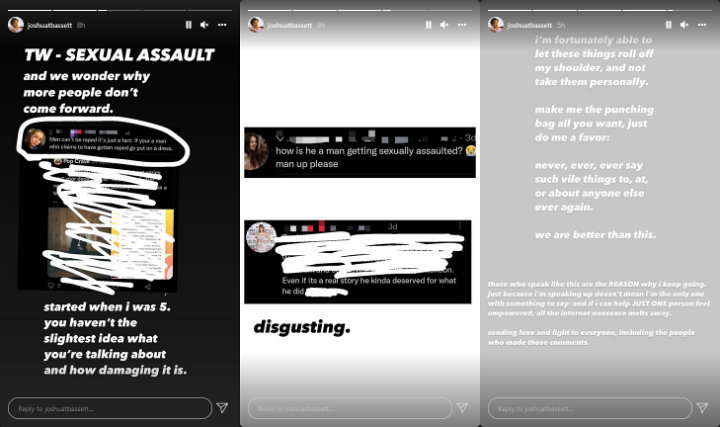 Joshua Bashett spoke out against Internet trolls.
"Those who speak like this are the REASON why I keep going. Just because I'm speaking up doesn't mean I'm the only one with something to say–and if I can help JUST one person feel empowered, all the internet nonsense melts away," the musician added. Despite the backlash, the Disney actor sent "love and light" to the Internet trolls as well as his supporters.
Source: Read Full Article