While being cheated on by both your ex-husband and your ex-boyfriend/baby daddy multiple times would be a lot for anyone to handle, Khloé Kardashian has had to deal with that plus having the whole world tune into her drama on Keeping Up With the Kardashians and in the tabloids.
Last time around when Tristan cheated on Khloé while she was nine months pregnant/days away from giving birth, Khloé live-tweeted the KUWTK episodes about it, writing that watching the drama on TV made her "pissed again" about Tristan's betrayal.
However, it looks like when KUWTK is showing the Jordyn Woods cheating scandal this weekend, Khloé won't be watching the drama unfold on screen. She tells ET, "I personally don't watch it back because… I already know what happens and it's just a little too toxic for me to keep reliving stuff like that, so I stay off social [media]. I didn't watch it. And it's just a part of our job that we kind of have to do, so we can't just pick and choose what we want to show. That's not fair. And so it's just what it is."
Khloé also says that she's "in a good place" now and is focusing on how to move on from the drama. "I always want to evolve and grow and mature emotionally, because that's how we become better people," she says. "While the world is changing around us, we should adapt to that, too, but always remember to be kind and just courteous about what's happening around you, too. So, I don't ever want that to change."
And in the spirit of being kind/courteous, Khloé also asked that fans not take sides or bash Tristan and Jordyn due to the drama. Very mature of her, no?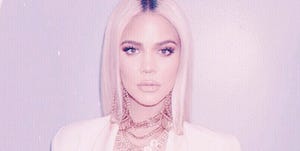 Source: Read Full Article