Today, in the ongoing saga that is the Kardashian family's complicated relationship with Photoshop, we bring you yet another chapter in the smaller sub-saga of Kim Kardashian's Instagram pics of Pete Davidson. ICYMI somehow, last month, Kim posted some pictures on IG of her and Pete getting their PDA on (not Kourtney Kardashian and Travis Barker levels of PDA, but still).
https://www.instagram.com/p/CcOAAnNJSix/?utm_source=ig_embed&utm_campaign=loading
A post shared by Kim Kardashian (@kimkardashian)
In one of the photos, Pete is captured in profile, staring lovingly at Kim. It's an adorable relationship moment, but lots of people thought it looked like Pete's nose and jawline had been altered in the pic: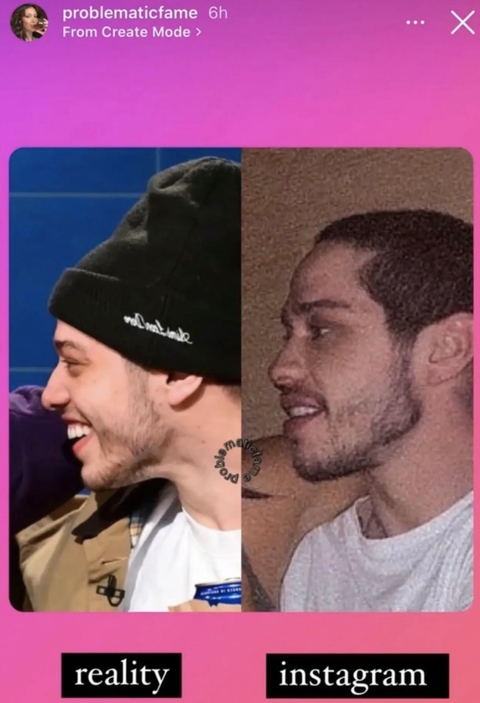 Kim rarely responds directly to Photoshop allegations, but she *did* respond to this rumor, taking to her IG Story with receipts (in the form of the live photo clip from the picture) to prove its authenticity.
A post shared by Kardashian Social (@kardashiansocial)
"Hmmm," Kim wrote on a screenshot of a Page Six article about the alleged alteration. "I guess Pete's jawline is snatched!!!! Snatched to the point u guys thought I photoshopped it!!! One pic he's laughing in mid convo."
A post shared by Kardashian Social (@kardashiansocial)
Some fans were satisfied with the live clip from the photo, but others were definitely not and made it clear that they still found the Pete pic highly sus. The people (person?) behind the Instagram account @problematicfame posted a video (captured on Reddit, if you want to see it) that compares the live version of the photo Kim posted as proof of the pic's un-altered state with the version that appears in her grid.
In the video, the user juxtaposes the live version of the image with the version on Kim's grid, overlaying them and flashing between the two: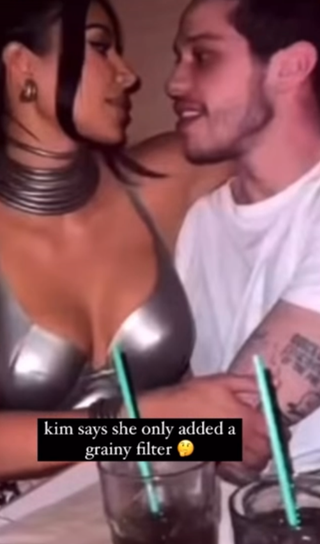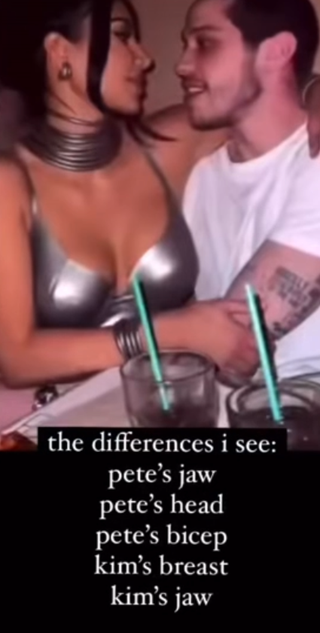 The user points out a whole list of changes Kim allegedly made to the image, including Pete's jawline, beard, and bicep and Kim's breast and jaw: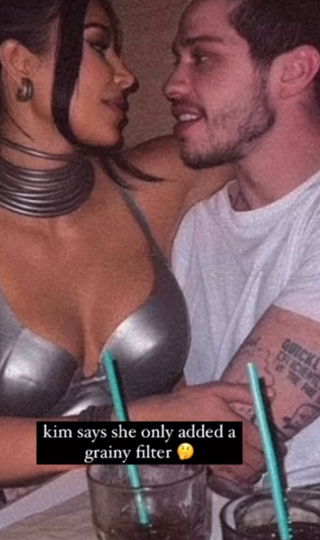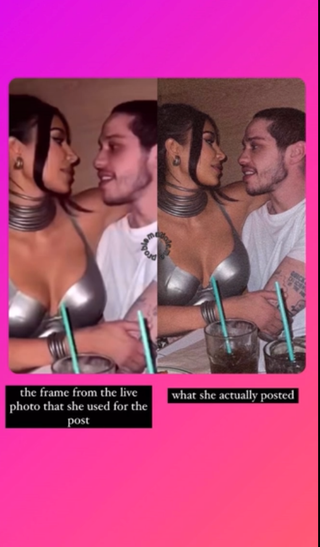 So, where do you fall? Did Kim alter the pic or no?
Source: Read Full Article