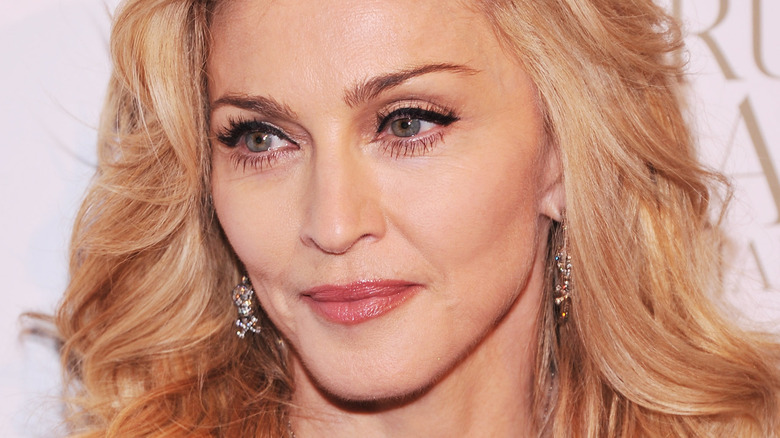 Stephen Lovekin/Getty Images
By Raegan Davies/Sept. 3, 2021 11:58 am EDT
If there is one person who the word "icon" should be reserved for, it's Madonna. Since she exploded onto the music scene in the '80s, she has kept audiences on their toes and managed to stay relevant over three decades since the beginning of her career. So just how has the "Queen of Pop" stayed confidently perched atop the pinnacle of pop culture? It depends on who you ask. Some would say that her timeless music is the reason. Others would answer that her controversies keep her relevant — from the outrage sparked over her 1989 "Like a Prayer" video to her 2006 tiff with church groups over her cross imagery during her Confessions tour (via Biography).
The answer you may get the most, though? Her style. Madonna has consistently shocked — and often offended — audiences with her overtly sexual and revealing clothing choices. Keep reading to see some of the most inappropriate outfits worn by the pop icon throughout the years.
Madonna shocks with the cone bra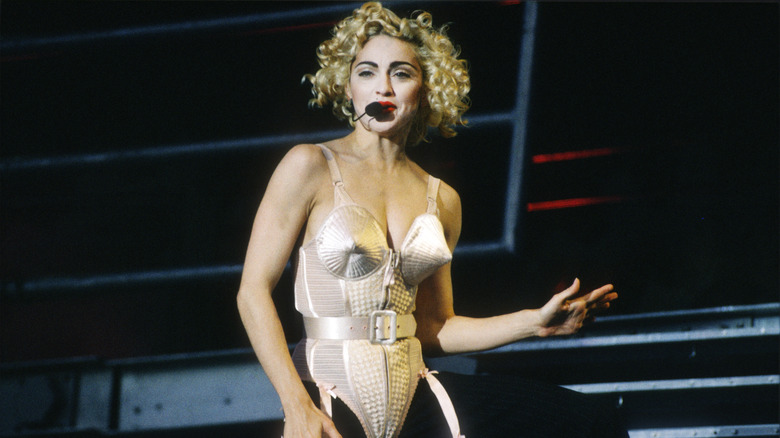 Of all of Madonna's signature looks throughout her career, this is definitely the most widely recognized. Just the two words "cone bra" summon up images of the pop star — no photo necessary. This bra made its most iconic appearance on her Blond Ambition Tour in 1990 (via CNN). The pink, belted, satin corset worn over black tights was designed by Jean Paul Gaultier, who had been working on similar conical designs for his runway shows in the 1980s.
The cone bra didn't only serve the purpose of shock value — it also made a statement of the singer's unwillingness to bend to criticism in her career. The Blond Ambition Tour started off the heels of intense heat for Madonna over her risqué "Like a Prayer" — which even had Pope John Paul II calling for people to boycott the pop star. Just before the "Like a Prayer" album's release, Madonna told The New York Times, "art should be controversial, and that's all there is to it" — and what a way for her to double down on that!
Madonna's sheer bra on the MDNA tour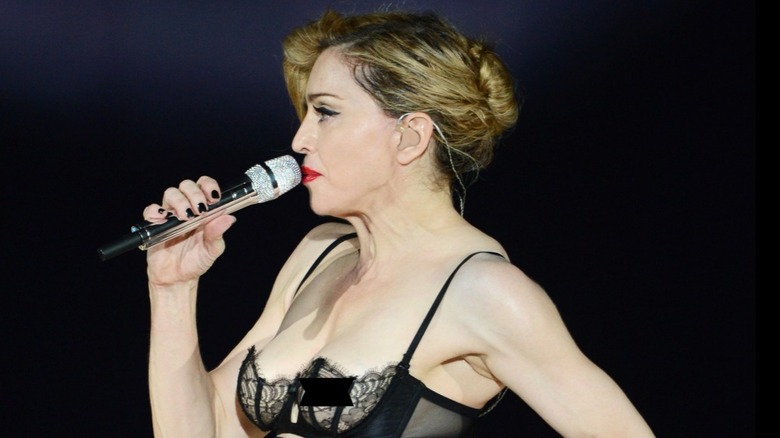 Per Harper's Bazaar, in 2012, Madonna kicked off her MDNA tour. In true-to-her fashion, her concert outfits were just as outrageous (and sometimes inappropriate) as her red carpet style. Case in point: the sheer bra she sported onstage which left very little to the imagination. She didn't stop there, however, as she also revived the infamous cone bra of decades past. But her concert outfits were a fantastic way to promote not only her music but also her lingerie line, fittingly named Truth or Dare by Madonna (via The Cut).  
WWD reported at the time that she sported outfit pieces from high-end designers such as Jean Paul Gaultier, Prada, Alexander Wang, and Miu Miu, among others. She also sang a somber version of the typically boppy "Like a Virgin" while wearing an Agent Provocateur bra. This is one of those looks that very few can pull of, but suffice to say, Madonna made it look easy.
Another see-through look at the 2016 Met Gala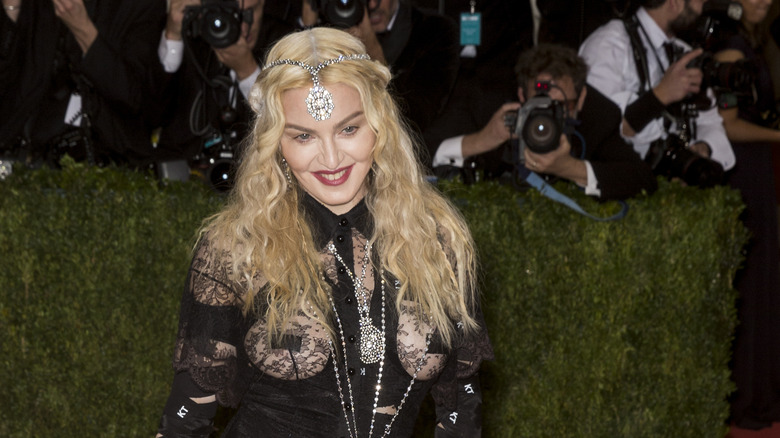 If you thought Madonna's controversial looks started and ended in her early career, you'd be dead wrong. The pop star has continued to shock the public into her early 60s, and it's part of what's kept everybody talking. She turned heads — and raised eyebrows — at the 2016 Met Gala when she arrived in black leather thigh-high boots, black arm wraps, and a black lace getup that exposed her butt and her breasts, with only two strips of black tape covering her nipples (via Elle).
Not one to shy away from criticism, Madonna responded to the backlash with this caption on her Instagram: "We have fought and continue to fight for civil rights and gay rights around the world. When it comes to Women's rights we are still in the dark ages. My dress at the Met Ball was a political statement as well as a fashion statement. The fact that people actually believe a woman is not allowed to express her sexuality and be adventurous past a certain age is proof that we still live in an age-ist and sexist society. I have never thought in a limited way and I'm not going to start."
Source: Read Full Article