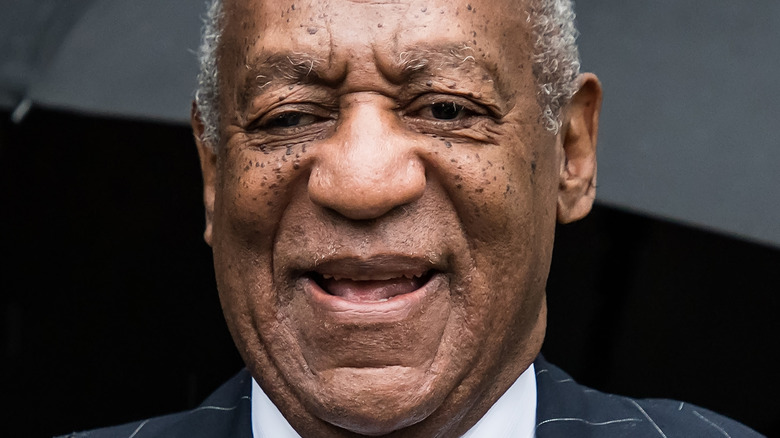 On the afternoon of June 30, Bill Cosby's family headed to the State Correctional Institution Phoenix in Montgomery County, Pennsylvania, where he's spent the last two years after getting convicted of aggravated indecent assault in 2018 (via Radar). They weren't there just to visit, though. Rather, they came to reunite with their disgraced family member as the Pennsylvania Supreme Court decided to overturn his conviction. Considering he had been sentenced to a max of 10 years for his crime, the turn of events came as a surprise to the public. According to the family's trusted spokesperson, Andrew Wyatt, they were just as surprised as the rest of us (via Radar).
Wyatt also told the media that Camille Cosby, the comedian's wife of 57 years, is "excited" over the "amazing" news. Throughout the entirety of his legal battle, Camille remained dedicated and defensive of her husband, despite more than 60 additional women coming forward with similar allegations. "Since when are all accusers truthful?" she asked in a statement released back in 2018, per Us Weekly.
Although scores of women are undoubtedly upset at Cosby's release, Camille isn't counted among them. Here is the truth about her decades-long marriage to the accused.
Bill Cosby married his wife when she was still a teenager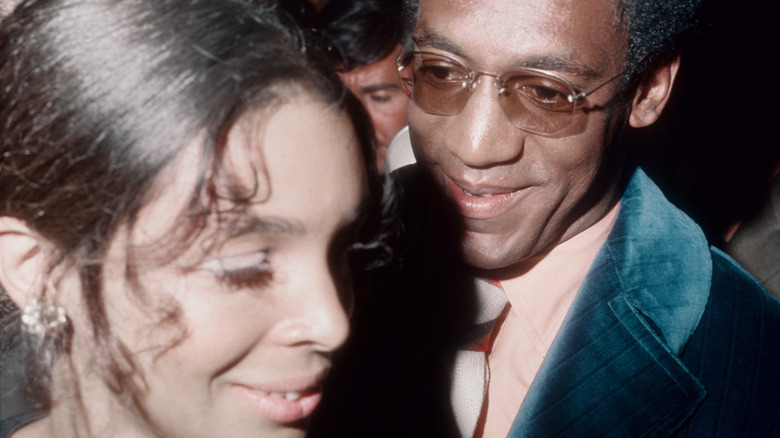 According to The Washington Post, in 1963, budding comedian Bill Cosby went on a blind date with a teenaged Camille Hanks at a bowling alley. He was in the District of Columbia for a gig and she was a student at the University of Maryland. The pair immediately began a long-distance relationship, and they said "I do" in January 1964, after Camille dropped out of school at age 19. Bill was 26. Although her parents were less than thrilled, Father Carl Dianda, the priest who performed the ceremony, told The Washington Post that "they were well-matched." According to Father Dianda, "[Camille] was one of the most beautiful in that parish."
Camille followed her new husband to Los Angeles where his career took off. Although success, money, and children all came rolling in, six of the allegations of abuse against Bill also took place during that timeframe. After a while, Camille moved the family to Massachusetts to escape the toxic Hollywood culture, per the Sunday Morning Herald. Being able to travel back and forth between Los Angeles and Shelburne Falls gave Bill the opportunity to lead a double life, and he began an affair with a secretary he met at a nightclub. Two decades later, he admitted to paying the woman $100,000 to keep the relationship under wraps.
When his career came to somewhat of a lull in the late '70s, Bill pledged to recommit to his family. However, he became estranged from one of his daughters and later lost a son to murder during an attempted robbery. But by the looks of it, his marriage remained strong.
Bill Cosby's wife stands by his innocence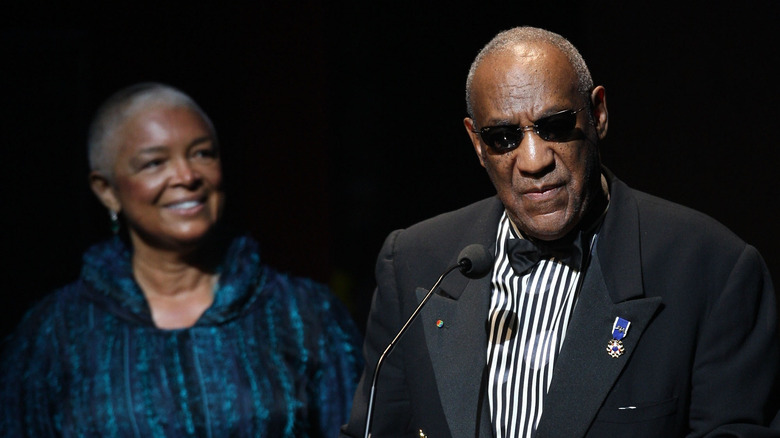 The same year "The Cosby Show" aired its last episode, Camille Cosby earned her doctorate in education (via the Sunday Morning Herald). She went on to produce a critically-acclaimed play and co-founded a project to preserve African-American history. Following her son's death in 1997, the mother-of-five penned an article for USA Today. "Bill and I were very young when we married; he was 26, I was 19. We had to mature, we had to learn the definition of unselfish love, and we did," she wrote (via The Washington Post). "When we committed to each other wholeheartedly years ago, our marriage became healthy and solid. Also, we blossomed as individuals. Our marriage encompasses mutual love, respect, trust and communication. Sound relationships must have positive reciprocity; they can't be one-sided and strong."
She shared a similar sentiment toward her husband during his legal battles of late. When her husband stood trial in 2018, she released a statement to CNN that read: "The man I met, and fell in love with, and whom I continue to love, is the man you all knew through his work. He is a kind man, a generous man, a funny man and a wonderful husband, father and friend. He is the man you thought you knew." 
She went on to discuss how the media paints a very different and untruthful image of her husband. "There appears to be no vetting of my husband's accusers before stories are published or aired … None of us will ever want to be in the position of attacking the victim. But the question should be asked: Who is the victim?"
Camille Crosby never visited her husband while he was behind bars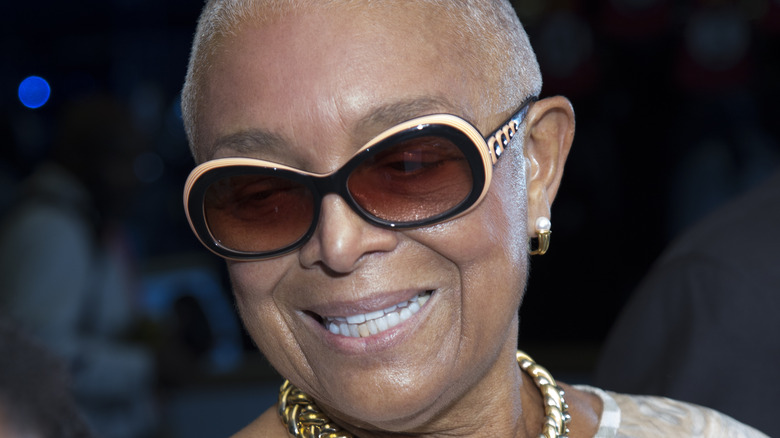 While Bill Crosby served time in prison, Camille Crosby gave an update on his wellbeing to ABC 13. "My husband is doing very well," she said. "He is exercising, he is eating properly. I'm happy about that." She also shocked readers by explaining how she hadn't — and never would — visit her husband while he was behind bars. But it wasn't due to any ill will on either part. "I do not want to see my husband in that kind of an environment, and he doesn't want me to see him in that kind of environment," she said. They apparently still communicated every day.
Time will tell if Bill Cosby will face additional legal troubles in the future, but for now, the couple can be together once again. But because the statute of limitations prohibits the pursuance of the dozens of other allegations against him (via BBC), he very well might walk forever free, hand-in-hand with the woman who has always stood by his side.
If you or anyone you know has been a victim of sexual assault, help is available. Visit the Rape, Abuse & Incest National Network website or contact RAINN's National Helpline at 1-800-656-HOPE (4673).
Source: Read Full Article