After pictures went viral of the Oscar-winning actor and his wife seemingly having a heated exchange with a young man on red carpet, the actress says it was simply a discussion amid fans' loud screaming.
AceShowbiz –Tom Hanks' wife has dismissed reports she and the actor had a row with a PR manager on a Cannes Film Festival red carpet. The "Big" actor, 66, and his actress spouse of 35 years were photographed apparently looking irate as Tom pointed a finger at a man who has been named as Vincent Chapalain while they attended the premiere of his new film "Asteroid City" on Tuesday, May 23.
Rita Wilson and Vincent have now brushed off speculation they were rowing by saying it was simply a discussion about where they were meant to be going while crowds of fans were screaming so loudly they could barely hear. The "Sleepless in Seattle" actress captioned a screenshot of the exchange on an Instagram Story with the message, "This is called 'I can't hear you. People are screaming. What did you say? Where are we supposed to go?' But that doesn't sell stories! Nice try. Go see 'Asteroid City'!"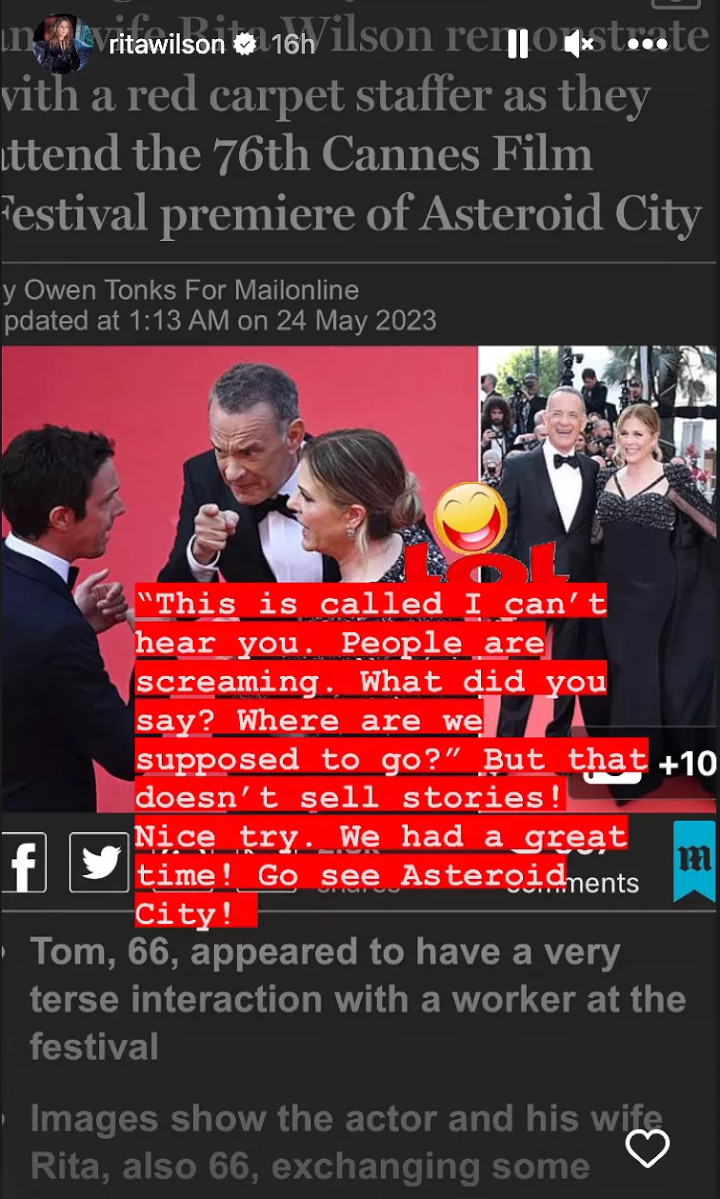 Rita Wilson clarified her and Tom Hanks' exchange with a Cannes employee.
Vincent backed her version of events when someone asked him on his Twitter page what had gone on. The person asked, "Did Tom Hanks and Rita Wilson get confuse with security? An explanation?" Vincent replied, "They just asked me if they should go back to the start of the mat with the rest of the film crew (I'm not security) wink."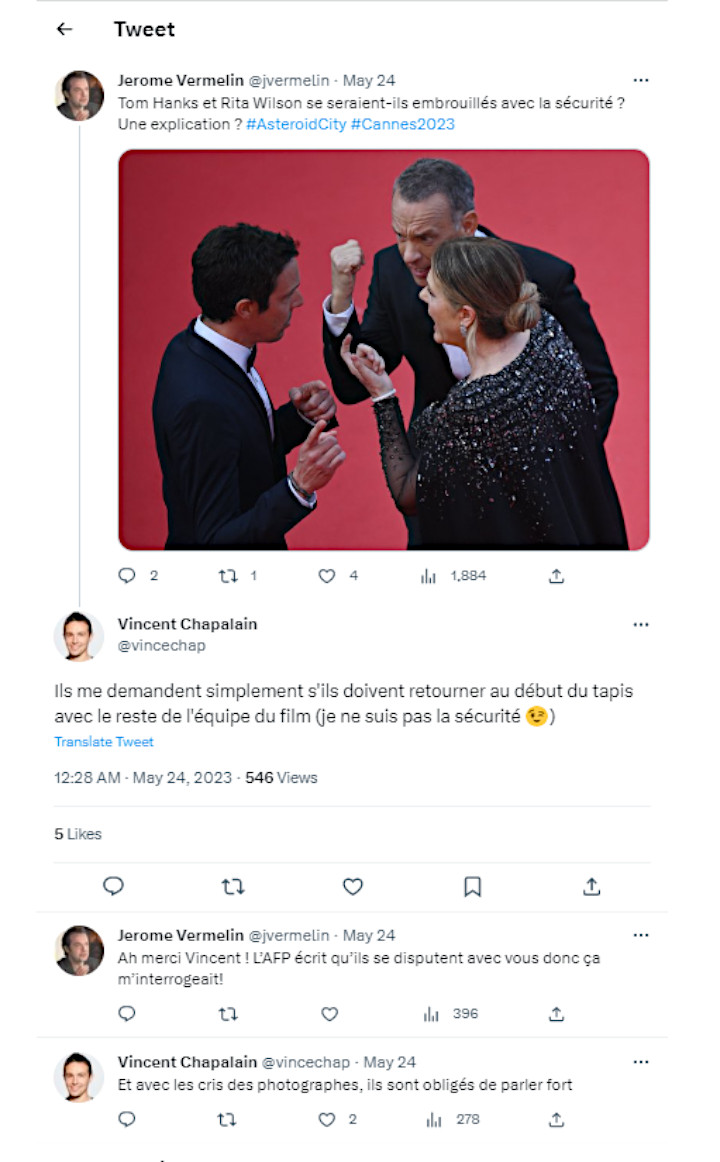 Vincent Chapalain backed Rita's claims about their exchange at Cannes.
Speculation had been rife Tom had lost his cool as he was pictured looking stern and pointing at Vincent. The exchange lasted only moments as the couple walked the red carpet.
It came nearly a month after the long-time pair celebrated their 35th wedding anniversary. Tom, who has sons Chet Hanks, 32, and Truman, 27, with Rita, posted a snap of him giving her a cake with the message, "35 years of marriage. April 30, 1988. Love is everything". Tom also has son Colin Hanks, 45, and daughter Elizabeth, 41, from his previous marriage to his college sweetheart, Samantha Lewes.
You can share this post!
Source: Read Full Article