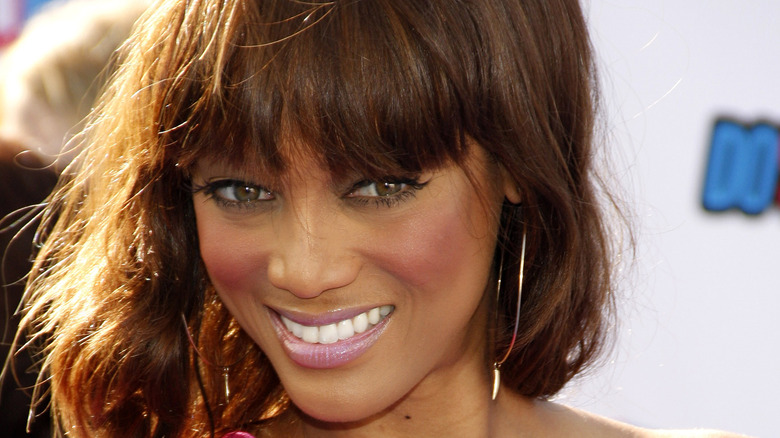 Tyra Banks is one of the biggest names ever to grace modeling. Since her runway and print days, Banks has built an empire that celebrates modeling, beauty, and so much more. She's shown her talents extend to other areas of entertainment, from acting to music to entrepreneurship.
Banks' rise to fame seemed like a fairy-tale. She was still in high school when she started to book shows with some of the world's biggest modeling agencies (per Good Housekeeping). In fact, she was the talk of Paris Fashion Week 1991 after booking 25 shows, which was unheard of for someone so new to modeling. 
Not only was Banks an incredible model in her own right, but she was one of several models paving the way for Black women to have a place in both commercial and runway settings at a time when white women dominated modeling. In fact, she was the first Black woman to appear on the cover of GQ, a Victoria's Secret catalog, and the coveted Sports Illustrated Swimsuit Issue (per Parade).
Tyra's hard-working nature made her transition into acting flawless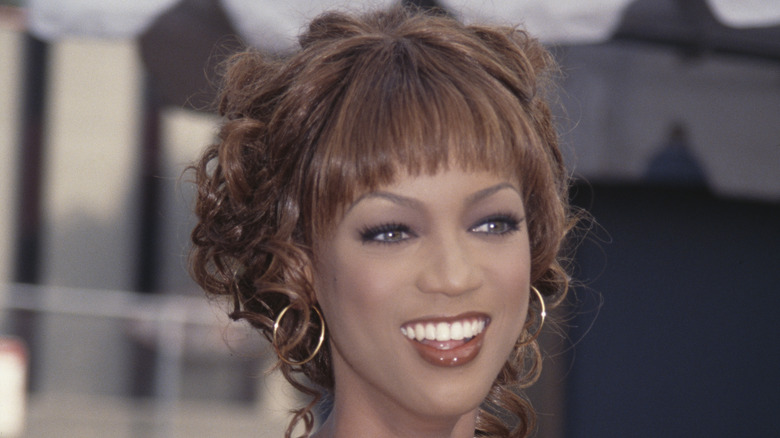 After appearing in music videos for Michael Jackson, Tina Turner, and George Michael in the early 1990s, Tyra Banks scored her first true acting gig in 1993. She was featured in an eight-episode arc of "The Fresh Prince Of Bel-Air" as Will Smith's love interest, Jackie Ames (per IMDb).
With time, Banks would grace screens for both television and film. She appeared on shows like "Just Shoot Me!," "New York Undercover," and "Felicity." She also shined in films like "Coyote Ugly," "Love & Basketball," and "Love Stinks." 
Banks also made TV of her own. She tried her hand at daytime talk show hosting with "The Tyra Banks Show" from 2005 to 2010. Banks earned a cool $18 million a year for the hosting gig (per Good Housekeeping). Then, there's her reality series, "America's Next Top Model." From 2003 to 2018, Banks coached hopeful models in pursuit of the kind of out-of-this-world success that she worked so hard for. In 2009, Forbes estimated Banks made $30 million per year while hosting and working behind the scenes of the reality series. 
Tyra became a master multitasker and impeccable business woman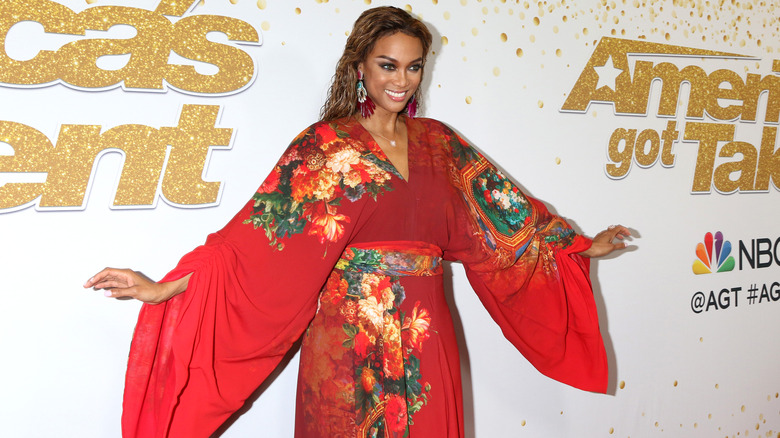 In 2014, Tyra Banks launched Tyra Beauty, a multi-level marketing style cosmetics venture that only lasted a few years (per Direct Selling News). Banks has also served as a guest lecturer at Stanford University. There, she continues to talk to eager students about the art of personal branding (per Forbes). 
Hosting has been a big part of Banks' business, even in the days after "ANTM." From 2011 to 2018, she served as host of "America's Got Talent" (per IMDb). She reportedly walked away from the show to pursue more production projects (per Good Housekeeping). In her current gig as host and executive producer of "Dancing With The Stars," she gets the best of both worlds. 
Of course, then there's ModelLand, an in-person attraction Banks has been working on based on the modeling experience. It may seem bizarre to some, but Banks has a clear vision for what she wants the theme park to be. "ModelLand is not just an attraction," she told Vogue. "It's a place full of stories that battle what attractive means."
Tyra may be worth a lot, but she's not a big spender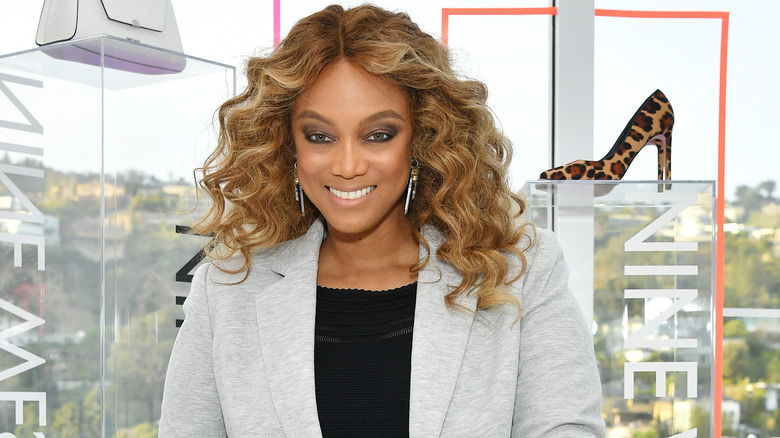 Celebrity Net Worth estimates Tyra Banks' net worth to be at $90 million. There's no denying she's worked hard at earning that money but apparently, she's also had to work at spending it. "I was always more interested in experiences over things. Things didn't make me happy," Banks shared in an interview with Money. 
"I saved saved saved. But I saved to a fault. About 15 years ago, my accountants pulled me aside, and they were like 'Tyra. You're not spending money. Nothing. You're just giving it away to the government. You need to spend some damn money!'" she explained. "So we created something called the 'F Account' which was the 'frivolous account.' And I had a budget to spend frivolously for the year, every year. I needed that to feel safe."
As far as safety for the future, Banks has given some thought to what really retiring would look like. "I look forward to retiring one day. What I'm trying to do now is the portfolio. Businesses, the television shows. Things that are in the moment, capturing pop culture. [But] it's not a sustainable business. There are more legacy businesses that I'm creating that will sustain past me being on this Earth. That's very important to me: Creating things that live beyond me."
Source: Read Full Article