Look, we're all completely obsessed with Kylie Jenner's Rise and Shine meme. You love it, I love it, my mom loves it even though she doesn't understand it. It's a thing. And I fully welcome any and all memes, jokes, and Instagram captions using the words "rise and shine," or even better "hrrrise and shine." Except um…now Tyga is out here trying to get in on the action, and fans think he's being petty AF.
https://www.instagram.com/p/B3vQi3IB7Sh/
Huh! This caption seems like a choice we should all definitely read into considering that Kylie was seen visiting Tyga's recording studio like two seconds after she and Travis Scott's breakup went public, with a source telling E!,"it wasn't an intentional jab at Travis, but she did hang out with Tyga for a bit."
Kylie hopped on Twitter seemingly denying this, but THEN she was seen hanging out with him AGAIN two nights later at a Los Angeles club. On top of that, Tyga (who clearly has no chill) hit Instagram a few days back to troll Travis Scott by blatantly wearing his Jordan 1s:
https://www.instagram.com/p/B3VJUnDhCae/
Unclear if Tyga's simply trying to get in on the LOLs or not-so-subtly imply that something's going on with him and Kylie, but fans in the comments are accusing him of being petty. Either way Kylie's been spending a lot of quality time with Travis as they co-parent their daughter Stormi so ¯\_(ツ)_/¯.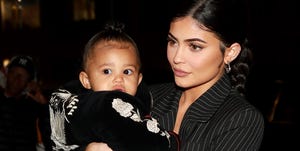 Source: Read Full Article