While it wasn't that long ago that rap was a mostly underground and grassroots phenomenon, it's clear from the millions upon millions of dollars that the top rappers bring in that things have permanently changed.
With streaming music services becoming the norm, modern-day musicians tend to make the bulk of their money from endorsements, merchandise, and tours, and many of rap's top stars have demonstrated themselves to be savvy marketers with devoted fan bases.
One of those rappers is Future, a relative newcomer who only entered the rap scene about ten years ago. How did he make such a quick rise to become one of the world's most successful rap and hip hop artists, and what is his current net worth? Let's take a closer look.
Future goes by many names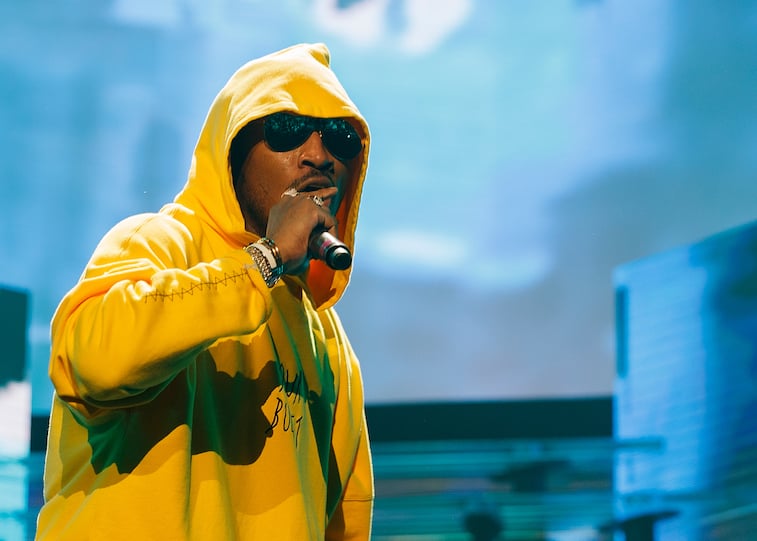 Whether you know him as Future, Future Hendrix, or Nayvadius Cash, all of these nicknames refer to the same man, who was born Nayvadius Wilburn in Atlanta, Georgia with family ties to the rap scene in the South.
His cousin, Rico Wade, encouraged Future to put out a mixtape in 2010 and become part of the musical collective The Dungeon Family. When that endeavor proved to be a success, Future's career took off in a major way.
By January 2011, he had released his third mixtape and had started working on some high-profile collaborations. This included YC's single "Racks," which made it to the Top Ten of the Billboard Hot R&B/Hip Hop chart. He leveraged that success into a record deal and was signed by major label Epic.
Future had a high-profile relationship with Ciara
Future's roller-coaster love life with Ciara has been a huge part of his public persona as the pair's rise and fall as a couple captivated fans. They started dating in 2013—just as Future's musical career was really hitting its stride. He appeared in her video for "Body Party," and the musically talented duo seemed on a clear track to a happily ever after when they got engaged and welcomed a son, Future Zahir Wilburn, in 2014.
Unfortunately, it was only a few months after their son's birth that the pair called it quits. Shortly after, Ciara went on to start dating Seahawks quarterback Russell Wilson, a relationship that's still going strong.
It took Future a lot longer to move on. After jumping around between short-term relationships (and fathering children along the way), he appears to be in a steady relationship with Lori Harvey, a model who is also Steve Harvey's stepdaughter.
All of this success has left Future with a fortune
Future has kept himself very busy in the entertainment world. He has consistently released new albums under the Epic label—often multiple releases in a single year. He has also shown his versatile talents by working on soundtracks for major films like Black Panther.
His collaboration on the film's track "King's Dead" earned him a Grammy for Best Rap Performance. He went on to both perform on and curate the soundtrack for Superfly, a film for which he got co-producer credit.
Another bright spot in Future's career has been his collaborations with another of rap's major success stories, Drake. In 2015, Future and Drake collaborated on an album called What a Time to Be Alive, and fans for both artists have been eagerly anticipating another joint project.
They've been searching for clues and believe that signs point to a new collaboration from the pair coming soon.
With all of this creative output, Future has also somehow found time to tour regularly. All told, he has managed to amass a considerable fortune from his record sales, tour profits, and endorsement deals.
The rapper is currently worth an estimated $40 million. Much of those earnings came from tours that have taken place in the last three or four years, so it's clear that Future's potential earnings are still on the rise.
Source: Read Full Article