Ariana Grande is tactfully staying out of the Taylor Swift–Scooter Braun drama, mostly — but she is spilling a little tea of her own!
As we reported, Swift and the 38-year-old super-manager have publicly been at odds ever since Scooter purchased the Shake It Off singer's entire music catalog in a landmark deal with Big Machine Records.
But way before Braun pissed off Swifties everywhere, he paid the ultimate price* for overstepping his boundaries with Ariana.
*The ultimate price for a manager is ten percent btw! LOLz!
Per the latest from Us Weekly, Ari fired Scooter for interfering in her personal life!
Before we dive into the tea, let's take a minute to recap: Ariana and Scooter have been professionally linked to each other for years, dating back to early 2013 when she signed on to Scooter's management company. By 2016, Braun was her primary manager and handling all aspects of her career in conjunction with Republic Records.
Her career being the operative word here! And yet, somehow he thought he could "manage" her personal life?
An insider gave Us Weekly some background, explaining how the talent manager has a long-standing history of taking his influence over his artists way too far:
"He definitely gets involved in his clients' business and personal relationships. At one point, Ariana fired him because she had had it."
A second insider spilled the tea on this particular incident, saying the Grammy winner decided to part ways with Scooter back in February 2018 "over a misunderstanding" — but the two resumed their work relationship six months later.
A misunderstanding? How vague…
Was it her cryptic rants on social media? Did he ask about the whole left side? Tell her to quit with the high pony? What gives??
Setting the record straight on the matter, the second source added:
"Per Ariana, anyone who suggests otherwise is part of the problem and no longer working with her."
But what exactly did Scooter do to cause their temporary rift in the first place?
Let's think back to last year — Ari's studio album, Sweetener, was dominating the charts as she quickly rose to a level of fame and pop culture prominence that she hadn't quite achieved before.
But in 2018, we also saw the rise and fall of a whirlwind romance (and engagement!) between Grande and Saturday Night Live star Pete Davidson — not to mention the effects the fallout had on Ariana when the pair eventually called it quits.
This must have been what prompted Scooter to get involved. He actually briefly spoke about the driving force behind his past rift with the songstress in an October 2018 interview, telling Variety: 
"When s**tty boyfriends leave, she starts to see the light on some stuff, and one day I got a phone call."
Ahh, we knew it had something to do with Pete! Scooter must have been against the engagement!
He continued:
"I went over there and we had a very honest conversation. Where it made me a better manager, number one, it allowed me to know that I can be fired — I had never been fired before."
It sounds like Ari really put her foot down and set up some healthy boundaries for her manager!
As we mentioned at the top, this all comes on the heels of Braun's present-day tiff with Taylor.
The situation is still ongoing, and there seems to be no resolution in sight.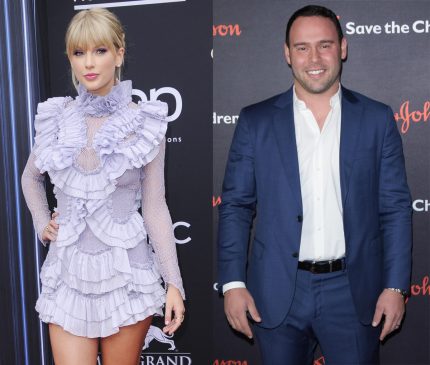 What do YOU think of Scooter's behavior these days, Perezcious readers?
Sound off in the comments (below)!
Source: Read Full Article