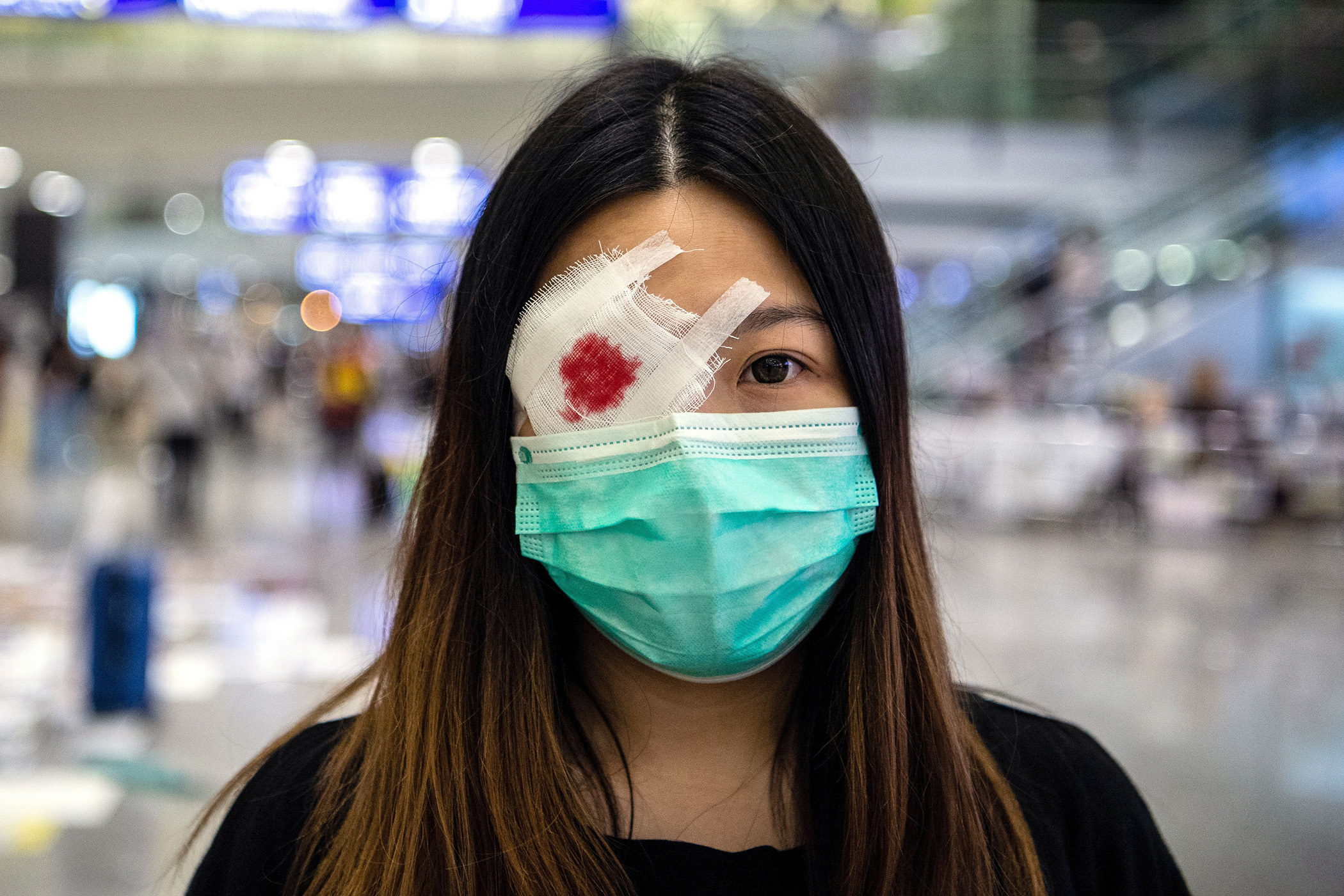 A woman wears a mock eye patch as protesters occupy the Hong Kong International Airport on Aug. 13. Protesters have been wearing eye patches in reference to a woman who was shot in the eye with a beanbag round during a clash with police.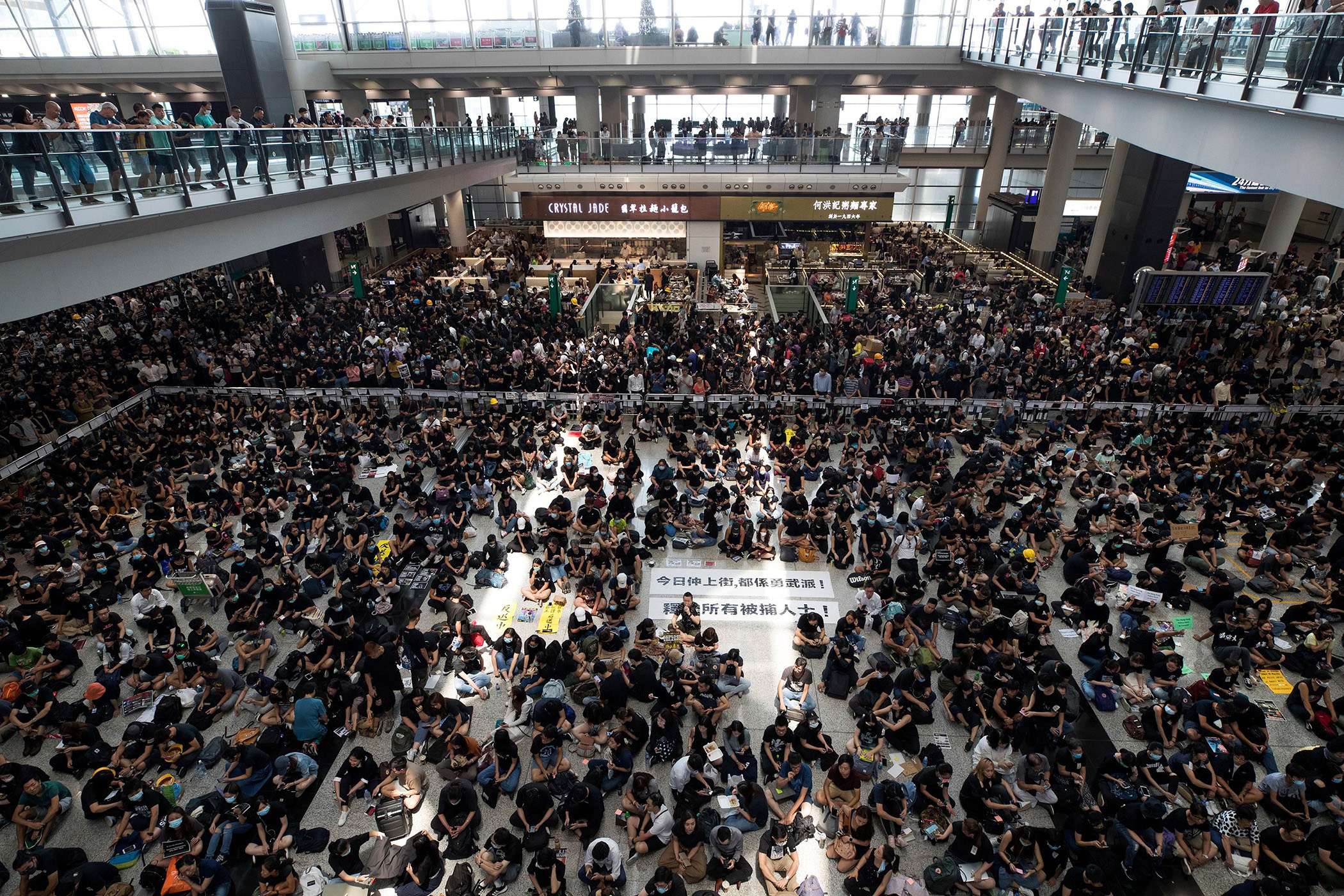 Protesters participate in a sit-in rally at the arrival hall of the Hong Kong International airport, Aug. 12.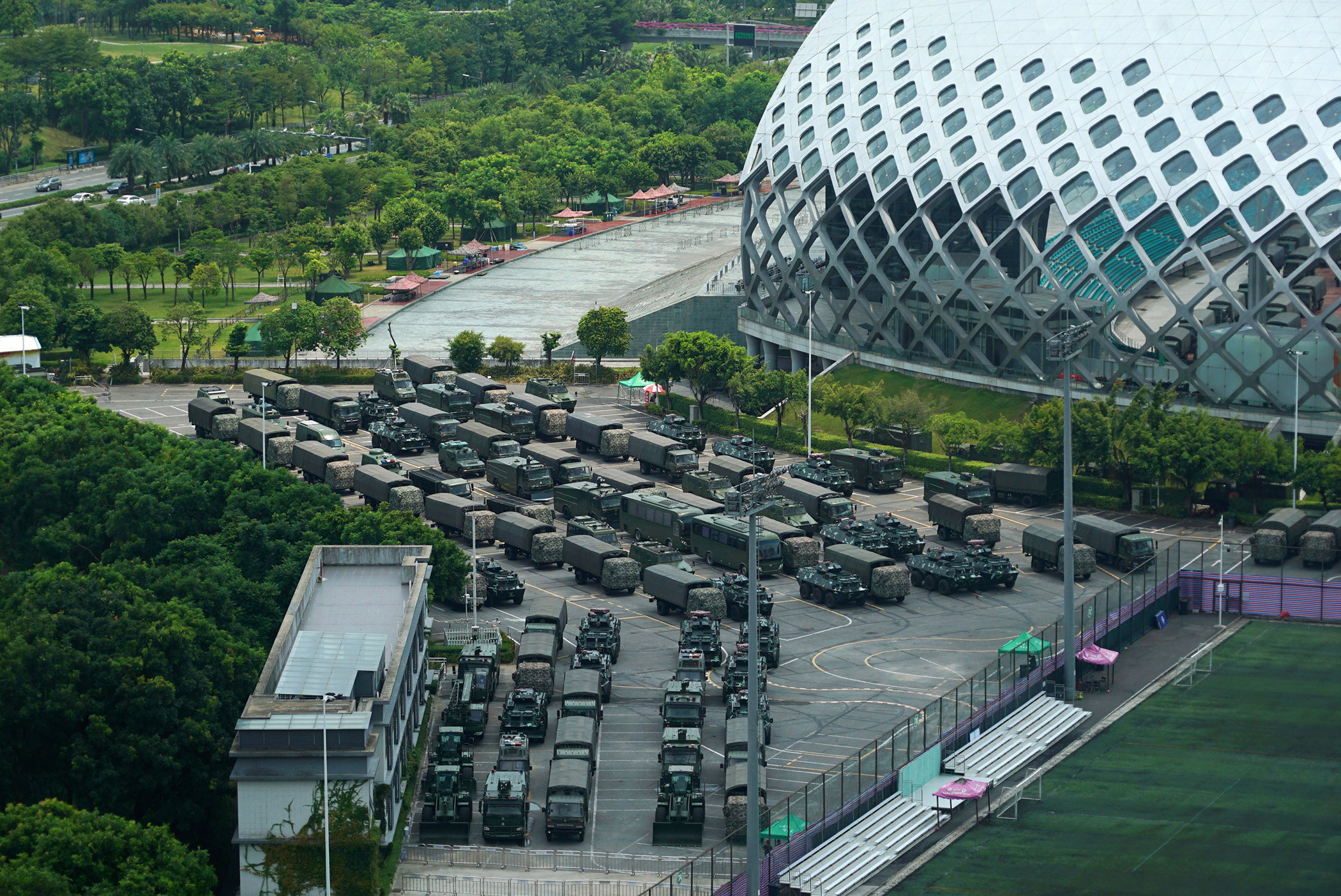 Armored vehicles and troop trucks are parked in a lot by the Shenzhen Bay Stadium in Shenzhen, China, near the border of Hong Kong, Aug. 16.
Police officers carrying assault rifles respond to a shooting in Philadelphia that left at least six police officers wounded in an hours-long standoff with a gunman, Aug. 14.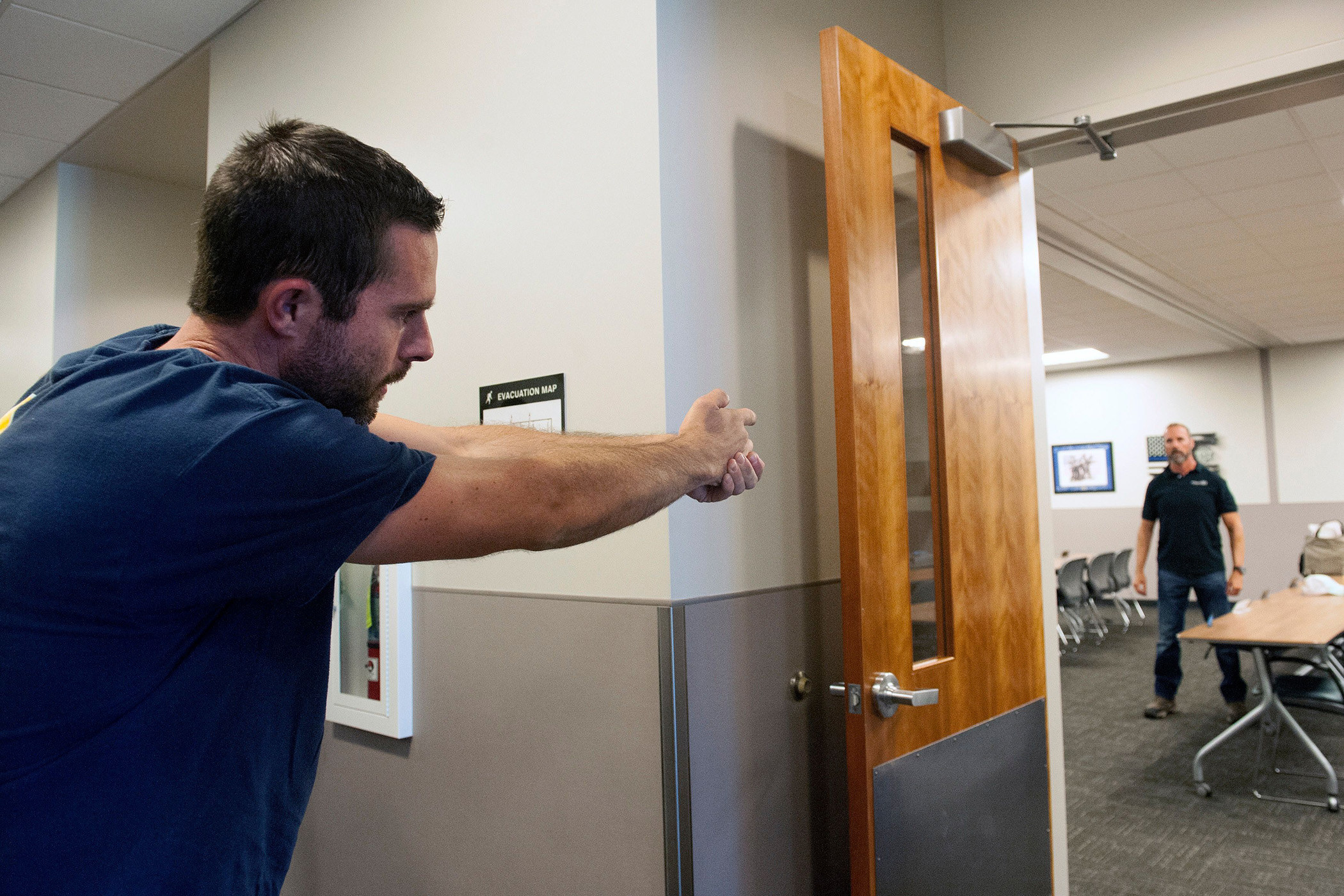 A school principal at a K-12 school near Golden, Colorado, participates in a "Quick Peek" drill during the FASTER Level 2 two day firearms course at Flatrock Training Center in Commerce City, Colorado, Aug. 11. – FASTER Colorado has been sponsoring firearms training to Colorado teachers and administrators since 2017.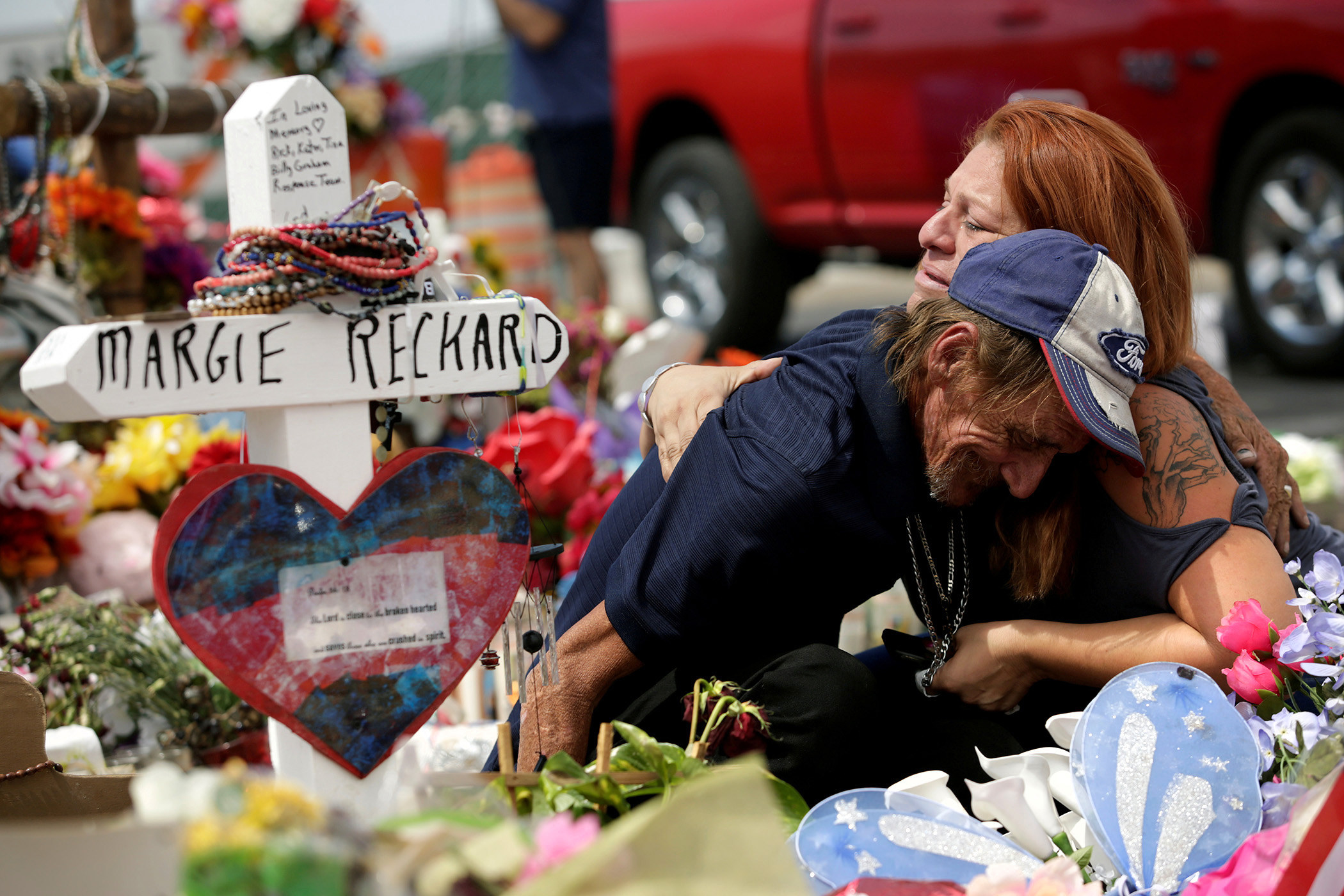 Antonio Basco, whose wife Margie Reckard was murdered during a shooting at a Walmart store, is comforted by a woman next to a white wooden cross bearing the name of his late wife, at a memorial for the victims of the shooting in El Paso, Aug. 15.
A pallet of bottled water is delivered to a recreation center in Newark, New Jersey, after lead was found in the tap water, Aug. 13.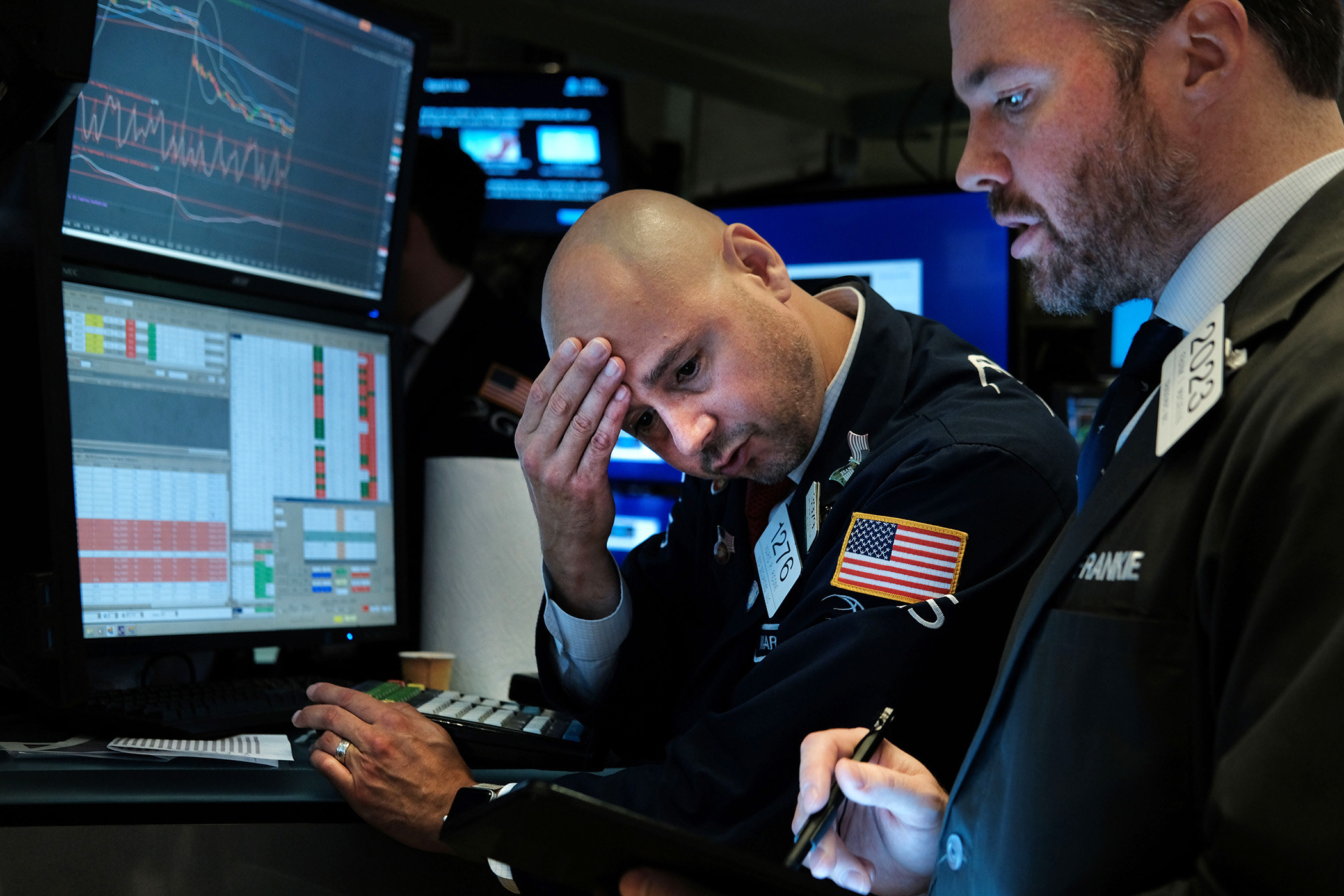 Traders work on the floor of the New York Stock Exchange as the Dow plunges over 800 points, Aug. 14.
Jars filled with corn kernels show peoples support for various presidential candidates at the Iowa State Fair in Des Moines, Aug. 10.
Simone Biles competes in the beam during the senior women's competition at the 2019 US Gymnastics Championships in Kansas City, Missouri, Aug. 11.
Brazilian indigenous women march towards the Ministry of Health office during a protest against budget cuts, in Brasilia on Aug. 12.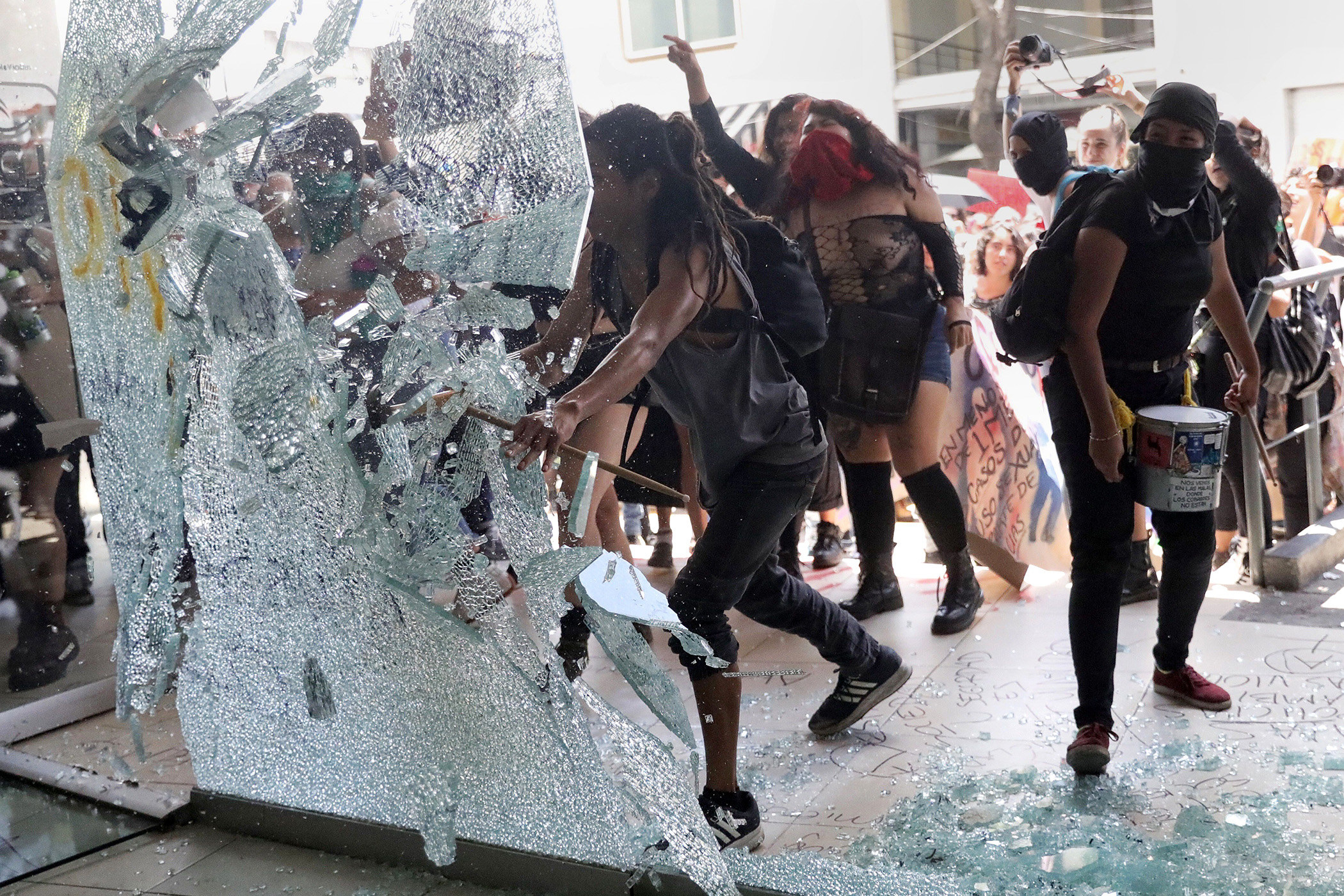 Mexican protestors break a glass at the headquarters of the Public Security and Attorney General during a protest against sexual abuse committed by the police, in Mexico City, Aug. 12.
A man in Srinagar with pellet injuries is treated after clashes with Indian security forces following restrictions after the government scrapped the special constitutional status for Kashmir, Aug. 14.
Environmentalists block the rails and stop a train loaded with new Volkswagen cars that has left the Volkswagen plant in Wolfsburg, Germany, on Aug. 13. The activists call for the expansion of climate-friendly public transport.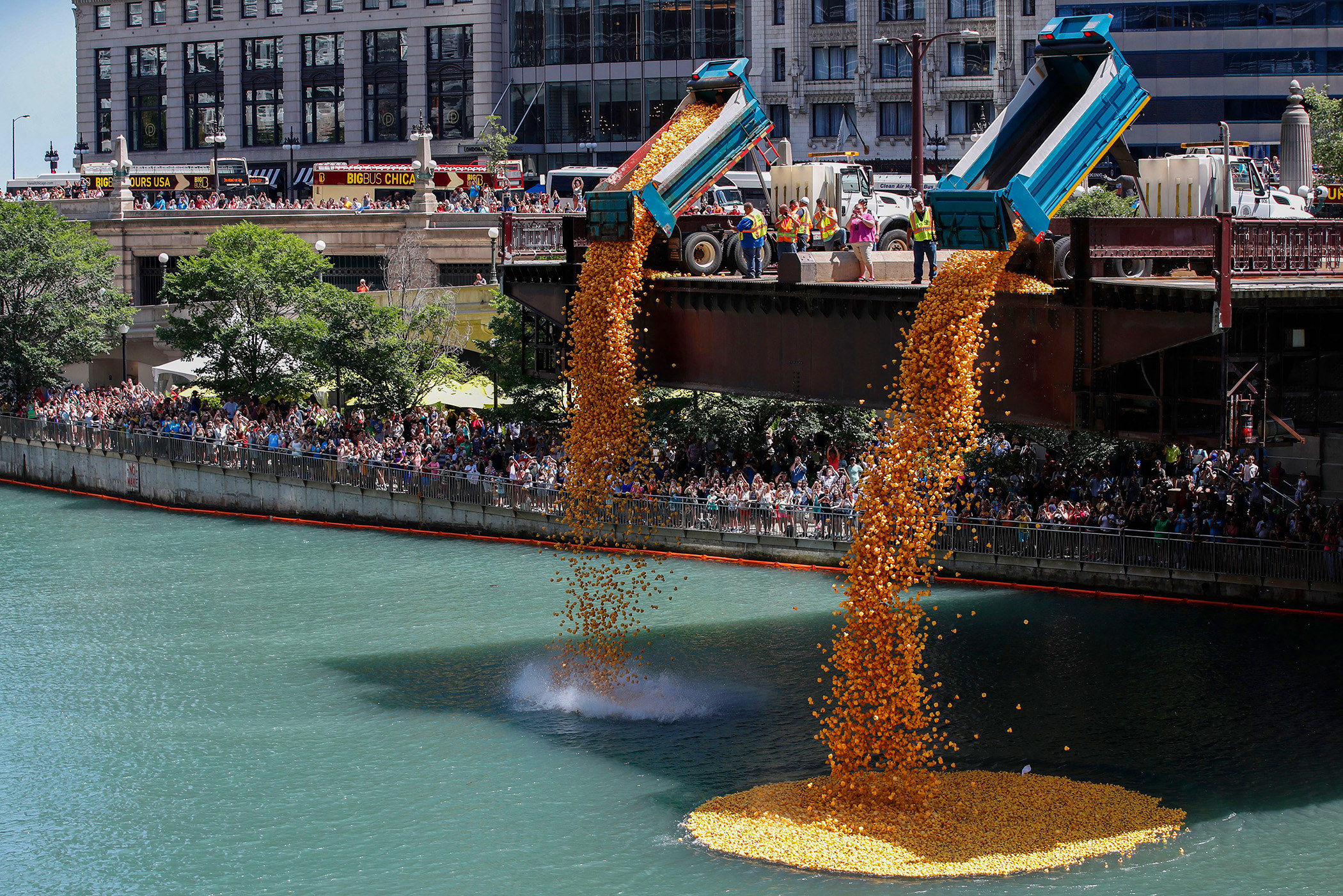 Rubber ducks are dropped into the Chicago River to start the 14th Annual Ducky Derby, on Aug. 8, in Chicago. The charity event helps to raise money for Special Olympics Illinois.
Flames rise from a forest fire near the Greek village of Makrimalli on the island of Evia, Aug. 13.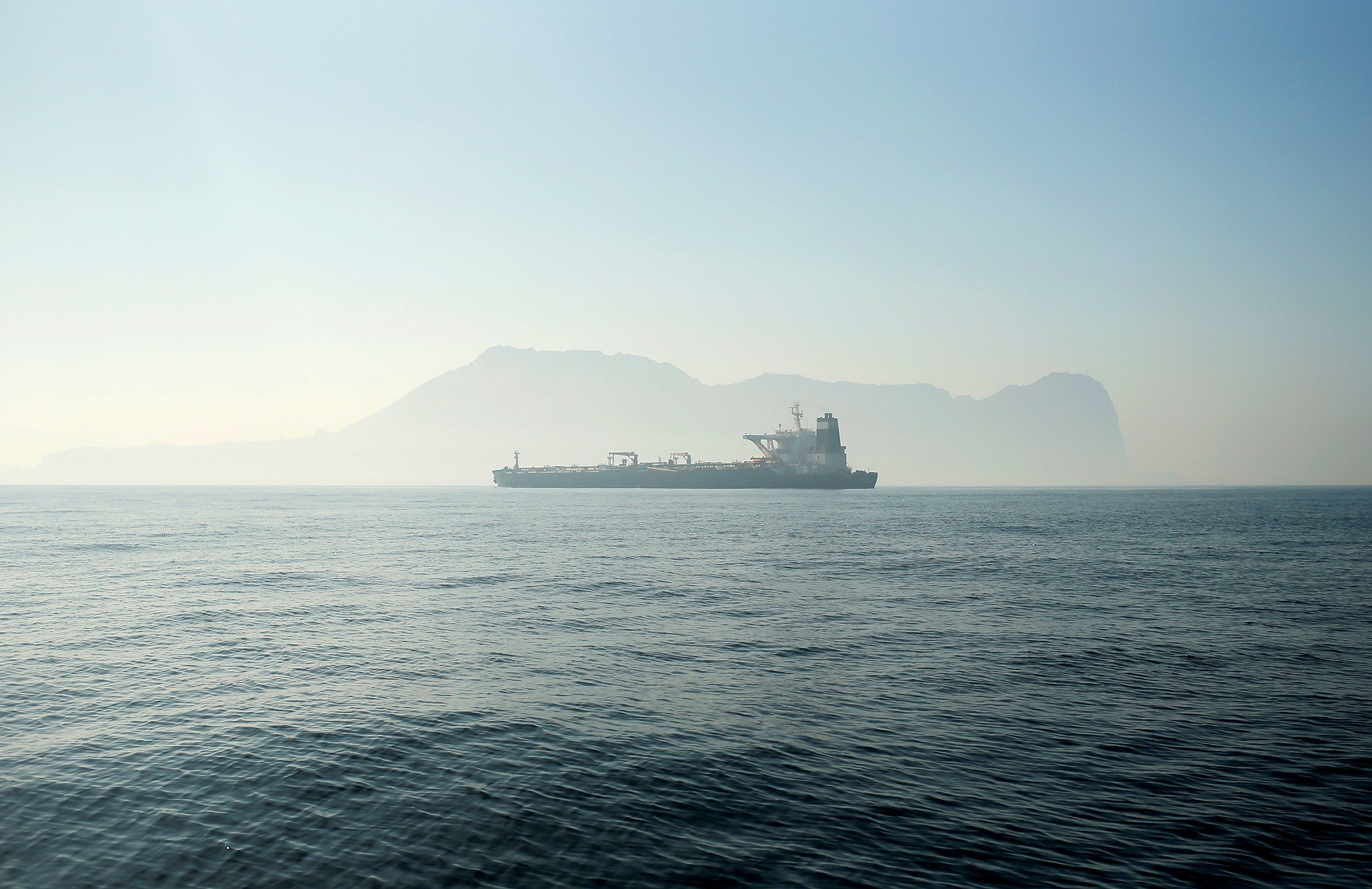 Iranian oil tanker Grace 1 sits anchored awaiting a court ruling on whether it can be freed after it was seized in July by British Royal Marines off the coast of the British Mediterranean territory, in the Strait of Gibraltar, southern Spain, Aug. 15.
A view shows the Ural Airlines Airbus 321 passenger plane following an emergency landing in a field near Zhukovsky International Airport in Moscow, Aug. 15.
A man walks through the crowd during an Arlo Guthrie concert at a Woodstock 50th anniversary event in Bethel, New York, Aug. 15.
A Chevron gas station offer gas for 30 cents a gallon during the Amazon Studios "Maisel Day" event in Los Angeles, Aug. 15.
A woman sits in a wheelchair as Palestinians and Israelis visit the shore of the Mediterranean Sea during the Muslim holiday of Eid al-Adha at a beach in Tel Aviv, Israel, Aug. 14.
A statue of Sir Stamford Raffles is seen as fireworks explode during Singapore's 54th National Day Parade in Singapore, Aug. 9.
Gabriel H. Sanchez is the photo essay editor for BuzzFeed News and is based in New York City.

Contact Gabriel H. Sanchez at [email protected]

Got a confidential tip? Submit it here.
Source: Read Full Article