On June 24 and 25, MADE x PayPal celebrated emerging New York designers with a two-day cultural event curated by Dao-Yi Chow and Maxwell Osborne of Public School. Taking place at Brooklyn Bridge Park, the event consisted of fashion shows and a multifaceted marketplace, in addition to performances from Nas and Parris Goebel.
Kicking off day one was a performance by The Marching Cobras of New York who opened the New Wave New York fashion show. Exhibiting patchwork pieces, knitwear, embroidered pants and more, showcased designers included Maya Wang of Fried Rice, Long Xu of LORING New York, Michael Graham of Savant Studios and Colin LoCascio. Closing out Friday was a special performance from Nas.
The highlight of the two-day event was Saturday's MADE Class of 2022 fashion show, which featured an opening performance from Parris Goebel. The MADE fashion show presented a range of visceral, yet refined ensembles from designers K.NGSLEY, Whensmokeclears and Bed On Water. Kingsley Gbadegesin of K.NGSLEY showcased contemporary, yet inclusive designs that paid tribute to NYC's queer nightlife. Gbadegesin elevated denim pants with waistline and butt slits while button-down shirts, tank tops and dresses featured the brand's signature cutout detailing.
For Thermal Taveras and K$ace of Whensmokeclears, the unveiling of their Spring/Summer 2023 collection also marked the brand's first runway show. Building upon its FW22 theme of digital renaissance, the latest offering transverses not only the importance but the interconnected power of communication.  "We want to remind people what we need to do to survive is communicate," Taveras told HYPEBEAST. "The thing that blossoms from that is connectivity, unity and maintaining relationships."1 of 2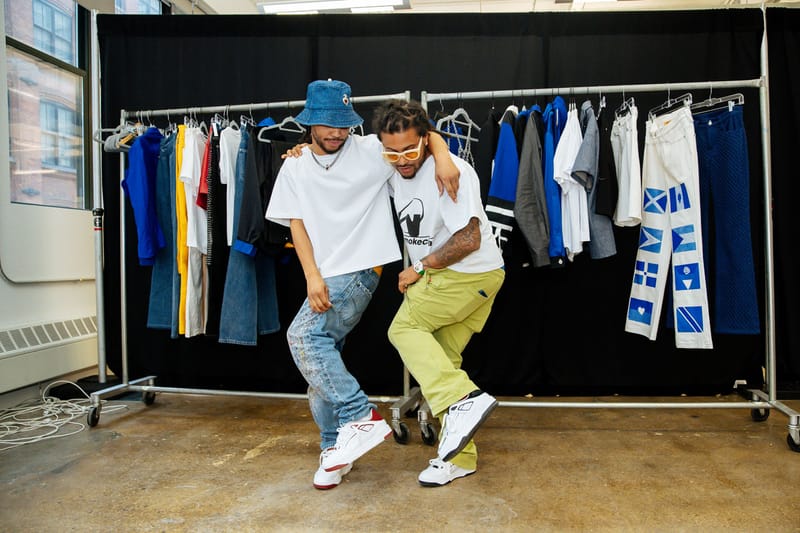 Thermal Taveras & K$ace2 of 2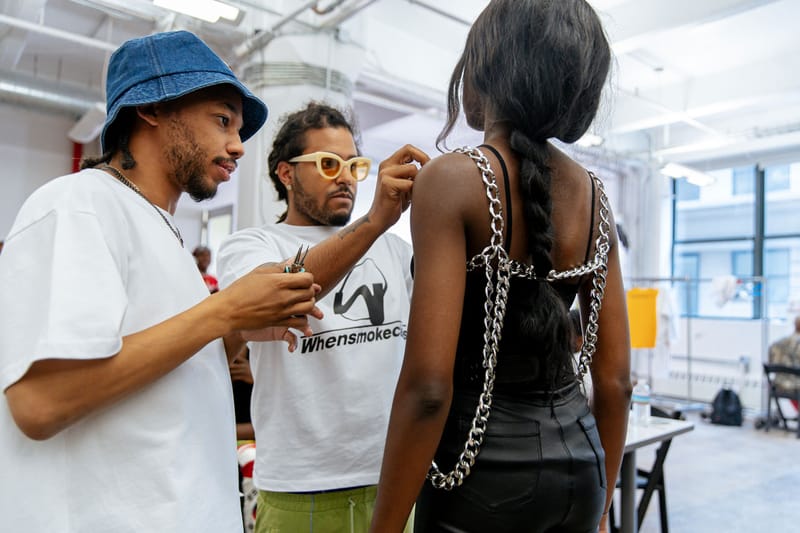 Thermal Taveras & K$ace
Titled "1-800-WHENSMOKECLEARS," the latest collection furthers the emerging brand's cadence of fused streetwear and tailored styles. Spanning 20 pieces, the offering centered long-sleeve shirts, twill shorts, slim-fit pants, denim suits and more. Collection highlights took form in a goldenrod waxed denim set with Radiant Heart buttons and distressed detailing, relaxed charcoal denim pants with single-leg distressing and a chainmail dress made from the brand's signature Radiant Heart stones in silver and cobalt. By fusing several styles, the creative duo centers its brand around the strength of unity and acceptance. "Our pieces are so universal and everybody can relate to the piece," said K$ace. "It's not a specific person, it's a mindset."
Closing out the Class of 2022 fashion show was the interdisciplinary womenswear label Bed on Water. Birthed out of a break from designing, Shanel Campbell's SS23 collection illustrated the visceral excitement of abstract creations. The cosmic characters and symbols Campbell crafted during the pandemic came to life through velvet tops, graffiti-style body-con dresses and tights, voluminous skirts and sculptural leather jackets. Inspire vintage pieces in her own wardrobe, the collection offered an artistic take on fusing past and present.
Check out the two-day event and the MADE Class of 2022 runway show in the gallery above.
In related news, Trapstar touches down in Paris for its latest "We Outside" pop-up. 
Source: Read Full Article