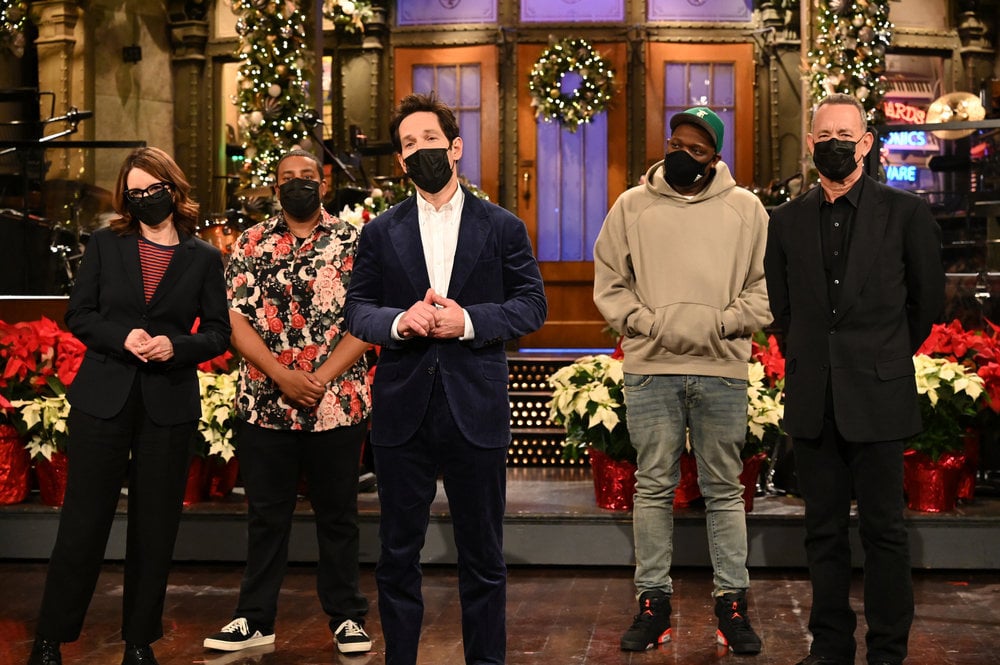 Live television shows no mercy. Whereas scripted series benefit from being able to stop and start production around inconveniences, live television is a roaring freight train without a final destination. And as the global population approaches its third year of the pandemic, the entertainment industry has gotten savvier at mitigating risk and establishing protocol, but amid breakthrough infections and surges, setbacks still happen. When do real-world curveballs take the fun out of spontaneity?
As it prepares to resume its 47th season following an annual holiday hiatus, Saturday Night Live is scrambling again. Roddy Ricch was scheduled to perform on the upcoming Jan. 15 episode, with Ariana DeBose hosting, but days before, the rapper had to pull out due to a COVID-19 exposure on his team. "I'm working with the SNL team to lock in a new date," the rapper wrote on his Instagram Stories. Bleachers was quickly announced as the replacement.
The news is the latest in a series of last-minute cancellations and replacements. At the start of the pandemic, the variety show went into lockdown after the Daniel Craig-hosted episode on March 7, 2020. The 45th season wrapped up with three episodes filmed remotely, resulting in an earnest yet ultimately saddening attempt: Saturday Night Live at Home.
The following 46th season brought cast members back to Studio 8H with quarantine protocol, regular rapid testing, smaller staff meetings, and masked audience members. Despite a smooth premiere, the second episode was reconfigured when musical guest Morgan Wallen was seen partying at a crowded bar a week before his scheduled performance on the Oct. 10, 2020, episode hosted by Bill Burr.
The country singer was pulled for violating protocol, but following an apology tour, Wallen was invited back soon after for Jason Bateman's episode, which included a sketch poking fun at the controversy. "My actions this past weekend were pretty shortsighted and they've obviously affected my long-term goal and my dreams," Wallen wrote after the initial firing. "I have some growing up to do." A few months later, TMZ released a video of Wallen yelling the n-word at friends.
There have also been smaller stressors, like when, earlier this season, Ed Sheeran announced he had tested positive for COVID-19 two weeks before his performance on the Nov. 6, 2021 episode hosted by Kieran Culkin. Despite having "really, really, really bad symptoms," Sheeran was cleared to perform in time. He later told Howard Stern that he hadn't feared his appearance was in jeopardy. "Everyone was saying they were scrambling to find a replacement," Sheeran said. "I was always playing that."
Source: Read Full Article