If you watched Even Stevens as a kid, then there's one fact you'll never forget: We went to the moon in 1969.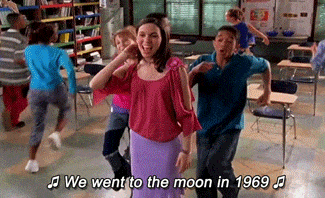 Ren Stevens' science-project-turned-musical-number was truly a DEFINING moment in Disney Channel history. 17 years later (!!!) people are STILL singing it.
Well, Christy Carlson Romano, the actor who played Ren, has a new YouTube series out — Christy's Kitchen Throwback.
View this video on YouTube
And in her latest episode, she reunites with two of her former Even Stevens castmates to recreate "We Went to the Moon." Frankly, it's kinda perfect:
View this video on YouTube
First, she brings out Lauren Frost, who you probably remember as Ruby Mendel, Ren's best friend.
Then we get a special appearance by George Anthony Bell — aka Principle Wexler.
Together, they convert Christy's living room into that fateful science classroom, and with the help of some teens, recreate ALL the iconic choreography.
I never knew how badly I needed this. THIS SONG WILL NEVER LEAVE MY BRAIN.
Do yourself a favor and watch the entire recreation below. And for more childhood nostalgia, you can subscribe to Christy's channel here.
View this video on YouTube
Source: Read Full Article