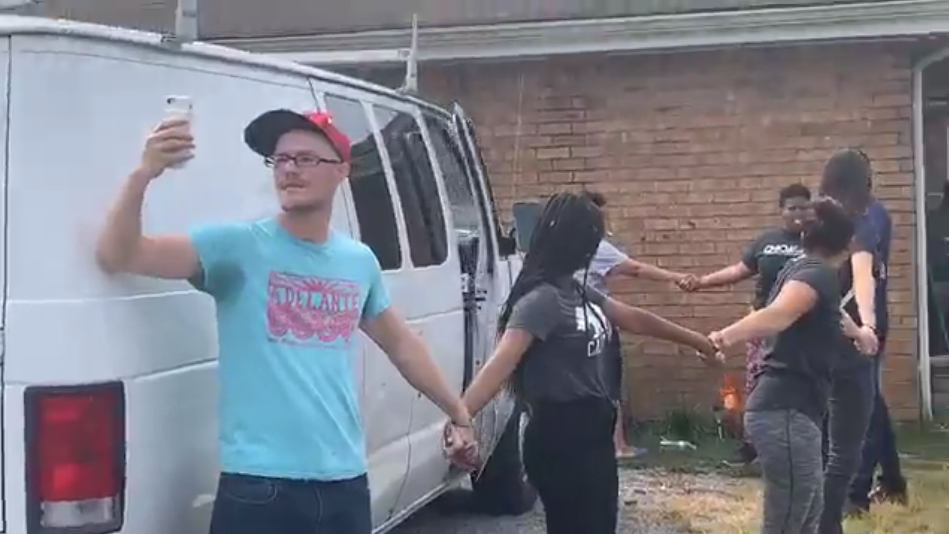 A group of neighbors in the Nashville neighborhood of Hermitage formed a human chain on Monday to protect a member of their community and his 12-year-old son as Immigrations and Customs Enforcement agents sought to carry out an arrest.
The incident, which was captured in a Facebook live video, showed the neighbors surrounding the white van in which the man and his son had locked themselves. ICE agents, driving a white pickup truck, had blocked in the car in order to take him into custody.
Stacey Farley, a neighbor who participated in the human chain, told BuzzFeed News the early morning standoff lasted about four hours. Eventually, ICE left, and the neighbors were able to shuttle the two safely back inside their home.
"We just wrapped our arms around and formed a chain and dared someone to break through it," said Farley, who lives three doors down from the family.
Meanwhile, the neighbors encouraged them to stay strong and stay put, bringing them food and water. To withstand the intense summer heat, they also gave them wet rags and refilled their gas tank so they could keep the air conditioner on.

Julia Reinstein is a reporter for BuzzFeed News and is based in New York.
Contact Julia Reinstein at [email protected]
Got a confidential tip? Submit it here.
Source: Read Full Article