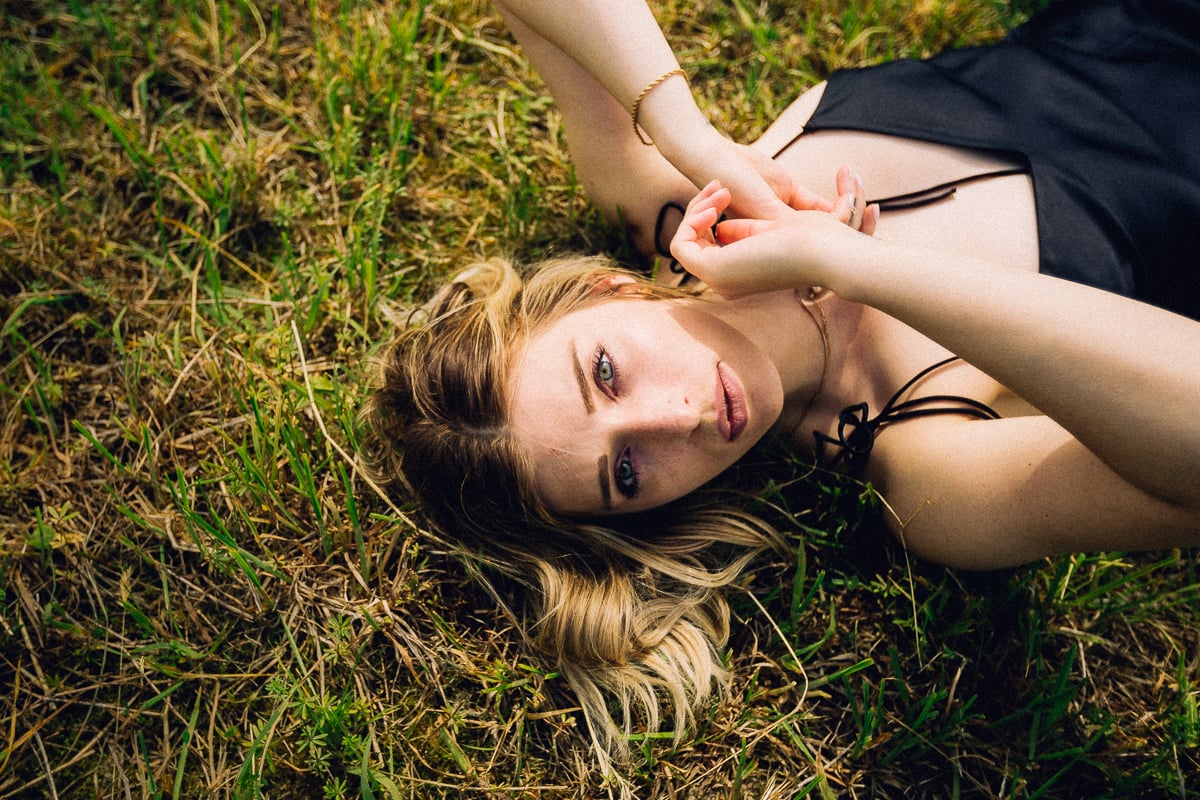 Image Source: Nicole Mago
Friday, Oct. 30, was a gray, murky day perfectly suited for wrapping yourself in a blanket and doing nothing. On such occasions, I usually blast my "Rainy Day" playlist on Spotify, which features a number of songs by Brooklyn-based singer Vérité (née Kelsey Byrne). But instead of listening to the 30-year-old songstress, I had the chance to speak with her via video chat. Cozied up in a black-and-white mock-neck sweater with grommet details, she shared the same sentiment of giving in to listless weather-related behavior. "It's been a struggle to get out of bed," she said. "It's f*cking awful."
But Vérité's lethargy was warranted considering she had just unveiled a special project: a mini-documentary about her driveway tour that took place in September. The short film, titled Live From 6ft: A Socially Distanced Concert Series, documents her week-long exploits throughout New York, New Jersey, Connecticut, and Pennsylvania as she performs at fans' homes. Vérité selected the lucky concertgoers from a pool of submissions, choosing randomly and by geographical convenience. Joined by videographers Nicole Mago and Pamela Ayala, she staged intimate performances of her biggest hits, including songs from her latest EP, New Limbs (Vol. 1), which officially dropped on Oct. 9.
She also sat down with each fan to chat about how they've been feeling amid the pandemic. One Pennsylvania resident named Cotey Hoover especially inspired Vérité as he shared his five-year plan to open a cafe in San Diego, CA. "I really loved his story," Vérité said. "I'm very similar. If life stops, and I'm faced with all of this uncertainty, I'm taking time to build myself and figure out how I can come out of this a stronger, better, more capable human."
The documentary is an exploration of ethos in more ways than one. In the film, Vérité opens up about figuring out the meaning of life — a contemplation that I, too, often wonder about. It raises an interesting question that I'm eager to pose during our call: does our generation put extra pressure on ourselves to ensure that everything we do has value?
"It's interesting, my mom is a consumer behavior researcher and professor, and we've had so many conversations about how our generation is the first where the societal norms have been completely shifted," Vérité said. "Before, the benchmarks for meaning were so solid. You knew what they were: you went to school, you got a job, you got married, you started a family, you bought a house. There were these benchmarks for transitioning from adolescence to adulthood. And, for us, none of those things existed. I have no plans to get married or have children."
She continued: "For us, I feel we float freely. And maybe we put too much emphasis and indulge too much in this back-and-forth with the meaning of our existence. But I think that it's inevitable because there are no benchmarks for how we move forward. We have to create that ourselves. I'm not sure if it's a bad thing or if it's just that we're a generation of transition and things will get easier as we move forward and develop new benchmarks."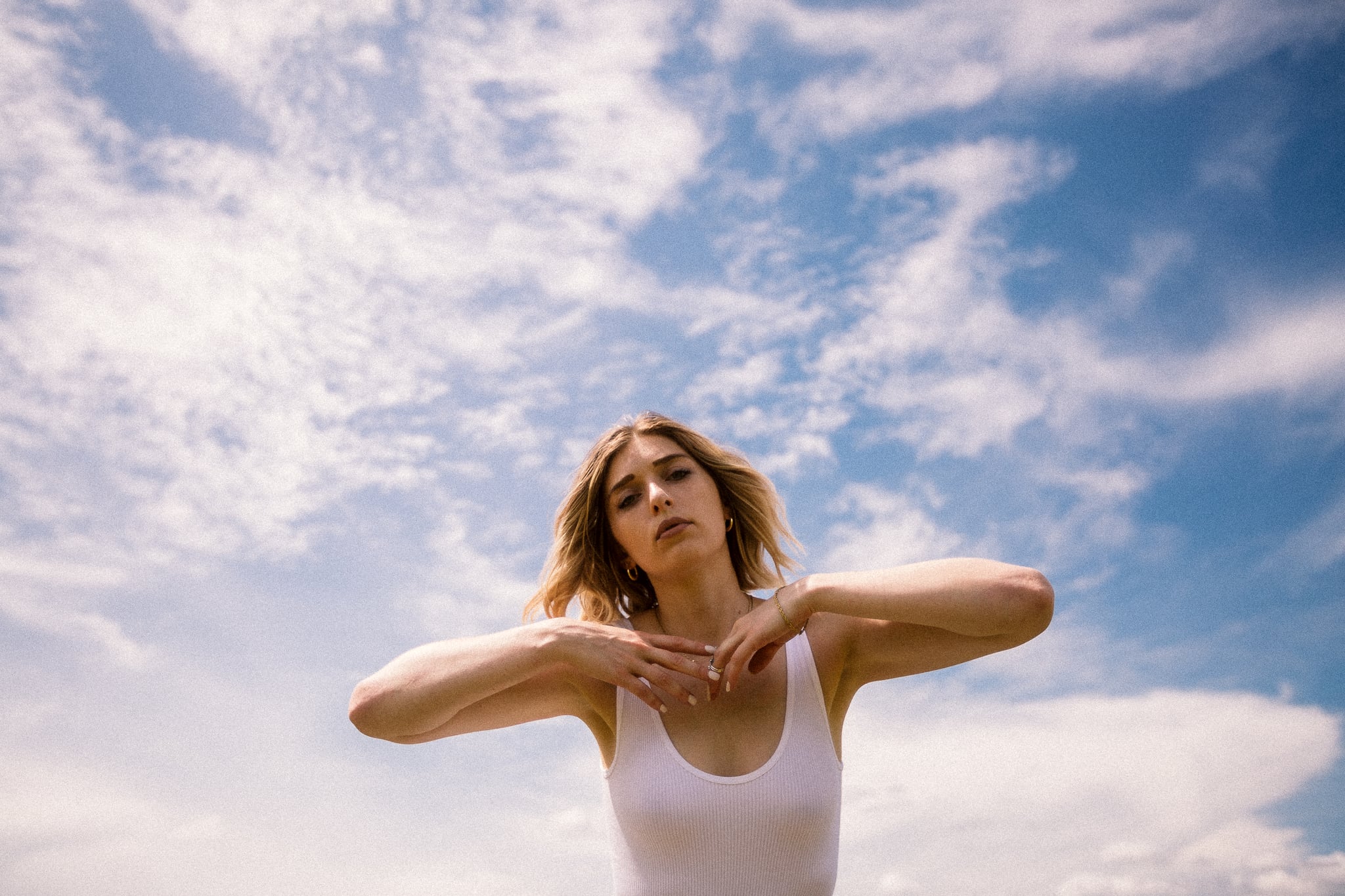 Image Source: Nicole Mago
If the benchmark for meaning involves dropping a four-track EP that slaps, then I'd say Vérité hit that goal with New Limbs (Vol. 1). The melodious collection consists of songs "Best of Me," "Save Up," "Younger Women," and "I'll take the Blame" — all of which were written and produced by her with the help of Aron Forbes. The project ruminatively surveys Vérité's experiences with love and life, integrating a certain transparency that she kept top of mind during the songwriting process.
"I was wounded, and it was rough," she said. "'Younger Women' and 'I'll Take the Blame,' which were written and produced fully in isolation, poured out of me. Each song was meant to be its own specific little world with its own tone, with its own mood. I was determined to be fully autonomous, creatively. I still had people come in and help me finish those productions, but this idea that I am capable of doing this on my own translated into the music. I was happy to have it be mine and feel that it was mine."
Source: Read Full Article