Jill Duggar and Derick Dillard were once the stars of TLC's Counting On. However, after Dillard landed in hot water with the network, he and his family left the show. Despite no longer being on television, Duggar still keeps her family relevant through Instagram. But fans have noticed that it's been several years since Duggar and Dillard welcomed a new baby. Can Duggar have more kids?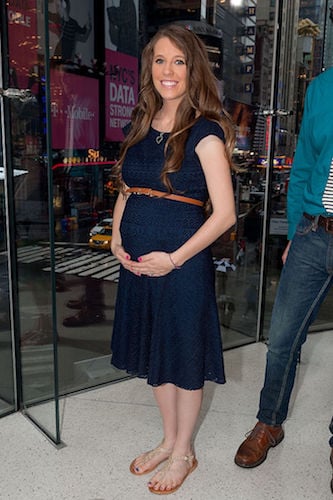 Duggar and Dillard have two boys, Samuel and Israel
Duggar and Dillard were introduced through Duggar's father, Jim Bob Duggar. The two hit it off right away, but they courted for several months before they wed. However, some fans speculate that Duggar wasn't crazy about Dillard; they think she only married him because she wanted to beat her younger sister, Jessa Duggar, down the aisle. Regardless, she and Dillard went on to welcome two children together. Israel Dillard was born in 2015, and Samuel Dillard was born in 2017. Duggar didn't wait long in between her two pregnancies, but since Samuel's birth, she has not announced a third.
https://www.instagram.com/p/By78yGGgFoU/
Most of the Duggars have said they'll have as many kids as God gives them
The Duggars are an extremely religious family. They believe that everything they do in life is for God rather than for themselves. The family doesn't believe in premarital sex or any form of birth control. And with that, most family members have stated that they will welcome as many children as God sends them, the same way their parents did. Anna and Josh Duggar are pregnant with their sixth child, so it appears they are on the same track as Josh's parents. And Jessa Duggar recently welcomed her third child in less than five years. However, Jill Duggar seems to have taken a step back when it comes to having kids.
Fans speculate doctors warned Duggar not to have more children
When Michelle Duggar got pregnant with her 19th child, there were complications. Josie Duggar ended up being born with health problems that kept her in the hospital long after birth. And fans have since speculated that doctors have warned Michelle Duggar not to have any more kids. Now that Jill Duggar hasn't announced a pregnancy in a while, fans have begun to speculate that doctors have given her the same warning. Though Duggar is only 28, women can have any number of complications during pregnancy that might inhibit them from having a healthy baby or remaining healthy themselves while carrying the baby to term.
The couple might also be waiting until Dillard finishes school
While Duggar hasn't announced a pregnancy in a long time,the idea that she might not be able to have kids is only speculation. It'spossible the two are simply waiting for the right time to have another baby.Dillard is currently enrolled in law school, and the two were in the midst ofbuilding a new home up until recently. Perhaps the two simply felt the timingwasn't right for Duggar to get pregnant with a third child. The speculation doesn'tmean that Duggar won't announce a third pregnancy (orpossibly adopt) sometime soon.
Check out ShowbizCheat Sheet onFacebook!
Source: Read Full Article