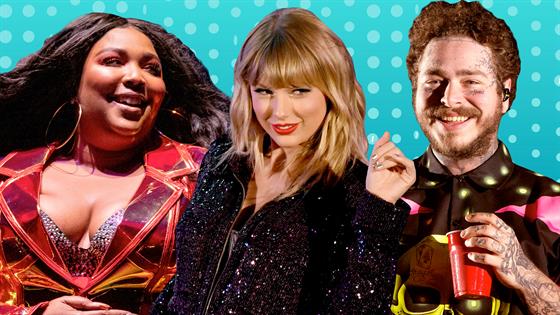 She's a force to be reckoned with!
Taylor Swift is having a moment. Actually, it's more like a decade. The current queen of pop was honored with the Artist of the Decade Award on Sunday night at the 2019 American Music Awards, after giving an incredible performance of her iconic songs. As if the honor wasn't already impressive enough, the Lover singer electrified the crowd with her hair-raising speech, which was both touching and extremely poignant.
The artist started by thanking her many fans, collaborators and advocates throughout the years. "First of all, I want to say that getting to share the stage with Misty Copeland and Craig Hall and Camila Cabello and Halsey and all those amazing dancers, was in so many ways, a dream come true," she expressed. "So that performance was even more fun than I hoped it would be. Oh, my god."
She also took a moment to pay tribute to one of her idols, Carole King, and her parents. "I can't believe that it's Carole King, that it's you who gave me this award," she said.
"So, you know, my parents are here tonight. And, you know, they would listen to "Tapestry" and all your records in high school, then they took them with them and packed them up to college with them," Swift began her story. "When they met and got their own house, they took those records with them, and played those records for me and my brother. When I fell in love with music, it was right around the time I realized how marvelous it was that an artist could transcend so many different changes and phases in people's lives."
She added, "So, you taught me that that was a possibility."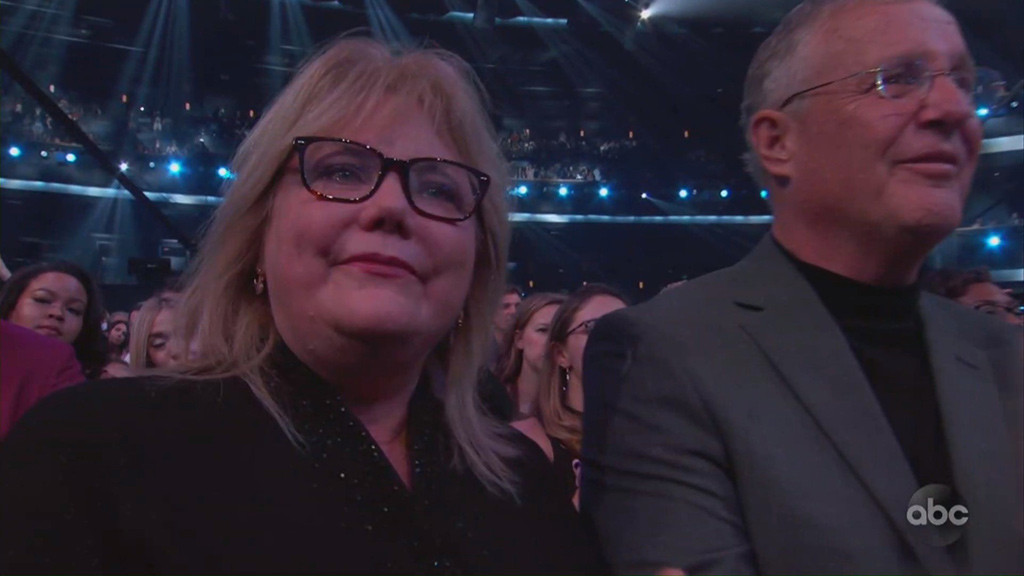 ABC
She then pivoted the conversation and talked about being able to create music for her loyal fans… which totally brought everyone, including her mom (Andrea Swift), to tears.
"I guess what I'm trying to say is that all any of the artists, or really anyone in this room, wants is to create something that will last," she said. "Whatever it is in life. And the fact that this is an award that celebrates a decade of hard work and of art and of fun and memories, all that matters to me is the memories that I have had with you guys, with you, the fans, over the years."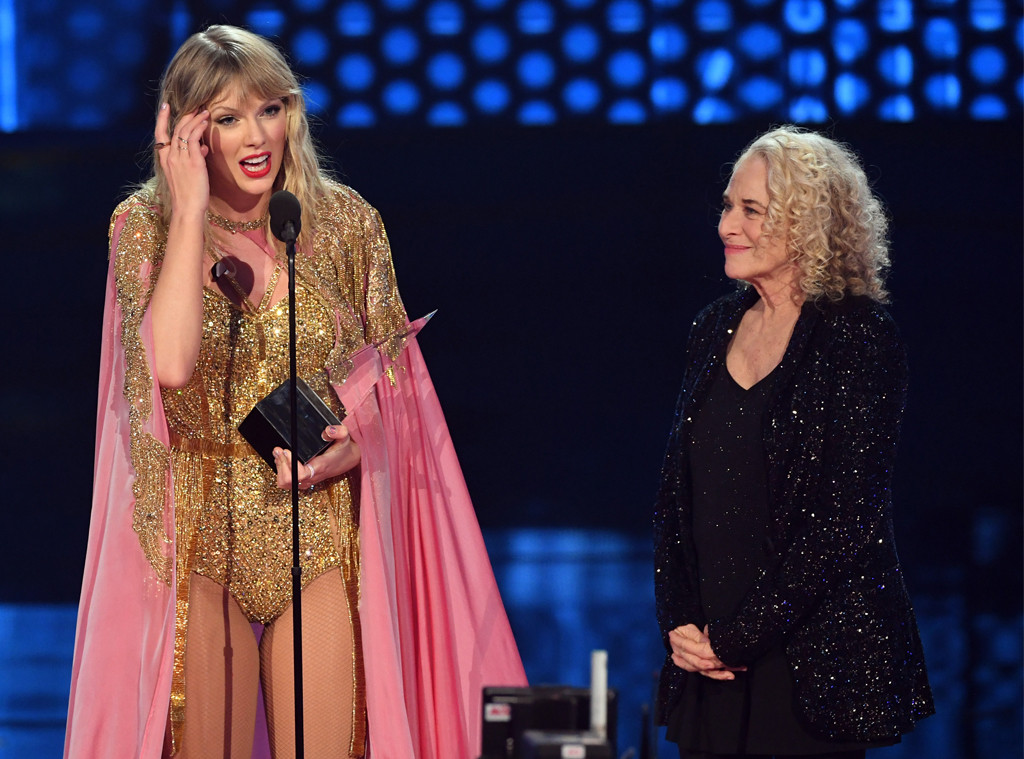 Kevin Winter/Getty Images for dcp
"Guys, we've had fun, incredible, exhilarating, extraordinary times together," she stated before exiting the stage. "Thank you for being the reason why I am on this stage from the very first day of my career until tonight. I love you with all of my heart. Thank you for everything. Thank you, AMAs. I'm so lucky to get to do this."
Taylor may have not directly referenced her ongoing drama with scooter braun and Scott Borchetta, but it felt like her speech was partly influenced by it. If anything, the 29-year-old star's remarkable performance almost didn't happen because of the ongoing legal drama surrounding Scooter and Scott.
Something she was very vocal about in the weeks leading up to her appearance.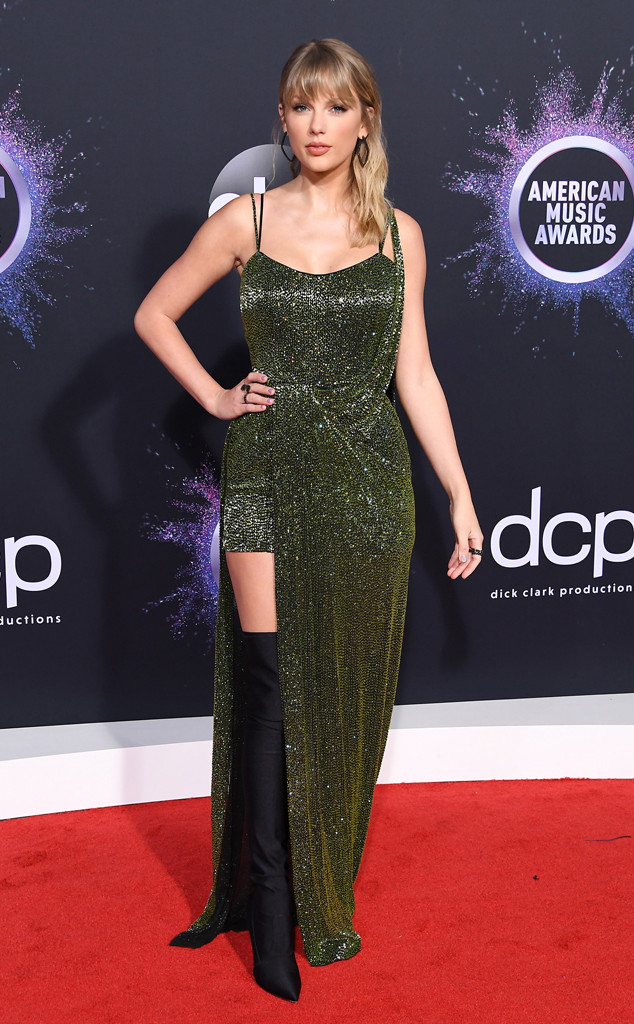 Steve Granitz/WireImage
In a post entitled "Don't know what else to do," Swift wrote to her fans, "Guys – It's been announced recently that the American Music Awards will be honoring me with the Artist of the Decade Award at this year's ceremony. I've been planning to perform a medley of my hits throughout the decade on the show," she wrote. "Scott Borchetta and Scooter Braun have now said that I'm not allowed to perform my old songs on television because they claim that would be re-recording my music before I'm allowed to next year."
The news quickly devolved into an unfortunate case of he-said-she-said, with Big Machine Label Group agreeing to let Taylor perform her old hits and claiming she was never banned from doing so. "It should be noted that recording artists do not need label approval for live performances on television or any other live media," the statement shared. "Record label approval is only needed for contracted artists' audio and visual recordings and in determining how those works are distributed."
We can't wait to see what she has in store for the next decade!
E! News returns weekday mornings at the beginning of 2020!
Source: Read Full Article