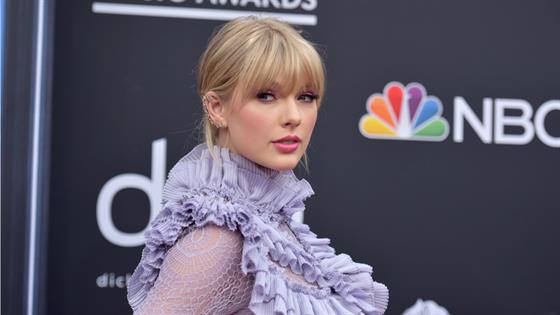 Attention, Swifties! Taylor Swift just dropped her highly-anticipated new album, Lover.
The Grammy winner's seventh studio album, released at midnight, is comprised of 18 songs, including previously-released tracks "ME!" and "You Need to Calm Down," as well as "The Archer" and title track "Lover." Now that the album is out, T.Swift fans (like us!) are combing through the powerful lyrics for messages from the singer. Swift even name-checks stars like Drake, Leonardo DiCaprio and Stella McCartney in her new tracks.
Overall, it seems as though many of Swift's new tracks are dedicated to her relationship with her longtime love, Joe Alwyn. Swift's song "Lover" even sparked engagement rumors over her lyrics, which reference a wedding tradition.
"My heart's been borrowed and yours has been blue," Swift sings on the track. "All's well that ends well to end up with you."
In her cover story for Vogue's September issue, Swift opened up about her new album and the theme of love.
"There are so many ways in which this album feels like a new beginning," the 29-year-old star explained. "This album is really a love letter to love, in all of its maddening, passionate, exciting, enchanting, horrific, tragic, wonderful glory."
Let's take a look at the stand-out lyrics from T.Swift's new album, Lover!
1. "I Forgot That You Existed": In this track, Swift sings about a betrayal, a past love who did her wrong. "How many days did I spend thinking 'bout how you did me wrong, wrong, wrong?" T.Swift sings. "Lived in the shade you were throwing/'Til all of my sunshine was gone, gone, gone."
"And I couldn't get away from ya/In my feelings more than Drake, so yeah," the lyrics continue. "Your name on my lips, tongue-tied/Free rent, living in my mind."
But then, Swift sings, that something happened and she forgot this person existed.
"I forgot that you existed," the lyrics state. "It isn't love, it isn't hate, it's just indifference."
2. "Cruel Summer": This song will make you want to get up and dance! In "Cruel Summer," T.Swift sings about catching feels for someone new and how that love can impact your life. "And it's new, the shape of your body/It's blue, the feeling I've got," Swift sings. "It's a cruel summer/It's cool, that's what I tell 'em/No rules, unbreakable heaven/It's a cruel summer, with you."
"I'm drunk in the back of the car/And I cried like a baby coming home from the bar," Swift later admits. "Said I'm fine, but it wasn't true/I don't wanna keep secrets just to keep you."
The lyrics, "Devils roll the dice/Angels roll their eyes," are referenced in Swift's recently released "Lover" music video.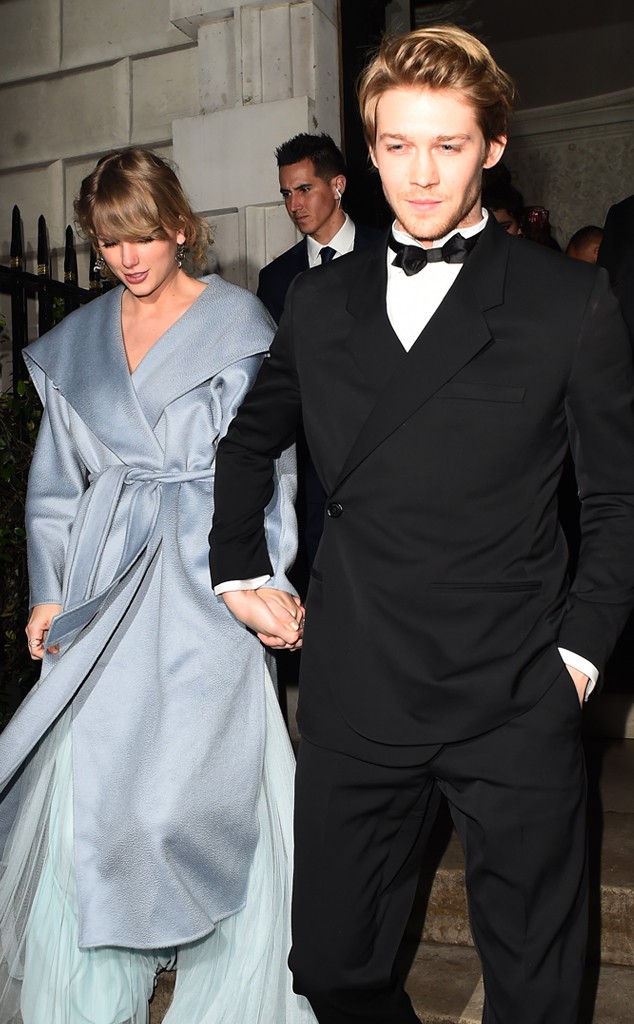 Splash News
3. "Lover": The Grammy winner dropped her third track one week before the album's release, making hearts skip a beat over the romantic melody. "Can I go, where you go?" Swift asks in the song. "Can we always, be this close?"
This song seems to be a love letter to her relationship with Alwyn, who she's loved for "three summers," but darling, she wants 'em all.
"My heart's been borrowed and yours has been blue," Swift sings. "All's well that ends well, to end up with you."
4. "The Man": The fourth track on Swift's new album is "The Man," in which she wonders how life would be if she were a man. "I'd be a fearless leader/I'd be an alpha type/When everyone believes you/What's that like?" Swift asks. "I'm so sick of running as fast as I can/Wondering if I'd get there quicker if I was a man/And I'm so sick of them coming at me again/'Cause if I was a man, then I'd be the man."
She later mentions Leonardo DiCaprio, singing, "And they would toast to me or let the players play/I'd be just like Leo in Saint Tropez."
5. "The Archer": The fifth track on Swift's albums have become known for being the most emotional and vulnerable songs. In "The Archer," Swift sings about sabotaging yourself in a relationship. "Combat, I'm ready for combat/I say I don't want that, but what if I do?" Swift asks. "'Cause cruelty wins in the movies/I've got a hundred thrown-out speeches I almost said to you."
"Easy they come, easy they go/I jump from the train, I ride off alone," the lyrics continue. "I never grew up, it's getting so old/Help me hold on to you/I've been the archer, I've been the prey/Who could ever leave me, darling/But who could stay?"
6. "I Think He Knows": In this track, Swift sings about a relationship in which her feelings are pretty obvious. "He got that boyish look that I like in a man/I am an architect, I'm drawing up the plans," she sings. "It's like I'm 17, nobody understands/No one understands."
"He got my heartbeat/Skipping down 16th Avenue," the lyrics continue. "Got that, oh, I mean, wanna see what's under that attitude like/I want you, bless my soul/And I ain't gotta tell him, I think he knows."
Swift later sings that she thinks this man knows that "he better lock it down" or she "won't stick around."
"'Cause good ones never wait," she adds with a laugh.
13. "False God": This song—which has a super cool beat—is referenced in Swift's "ME!" music video. "We were crazy to think/
Crazy to think that this could work/Remember how I said I'd die for you," Swift sings. "We were stupid to jump/In the ocean separating us, remember how I'd lie to you."
"And I can't talk to you when you're like this," Swift continues. "Staring out the window, like I'm not your favorite town."
Remember in the beginning of the "ME!" video when Swift speaks in French with Urie? She tells him, "I can't talk to you when you're like this."
14. "You Need to Calm Down": This song, released in June, stands up for the rights of the LGBTQ+ community, as well as the rights of women. Swift shared the meaning behind the track with Apple Music's Beats 1, stating, "I've observed a lot of different people in our society who just put so much energy and effort into negativity, and it just made me feel like, 'You need to just calm down. Like, you're stressing yourself out. This seems like it's more about you than what you're going off about. Like, just calm down.'"
15. "Afterglow": In this song, Swift appears to apologizing after an argument. Swift is admitting that it's her fault, hoping she hasn't lost this love for good. "Fighting with a true love is boxing with no gloves/Chemistry 'til it blows up, 'til there's no us," she sings. "Why I have to break what I love so much? It's on your face, and I'm to blame, I need to say."
"Hey, it's on me/In my head, I'm the one that burned us/Damn, but it's not what I meant/Sorry that I hurt you," the lyrics state. "I don't wanna do, I don't wanna do this to you. I don't wanna lose, I don't wanna lose this with you. I need to say, hey, it's on me, just don't go. Leave me in the afterglow."
16. "ME!" (featuring Brendon Urie): This was Swift's first single off of her new album, which she collaborated on with Brendon Urie. The track is all about celebrating yourself and embracing every part of who you are. "I'm the only one of me/Baby that's the fun of me."
17. "It's Nice to Have a Friend": This song has another reference to a marriage, as Swift sings, "Church bells ring, carry me home/Rice on the ground looks like snow/Call my bluff, call you 'babe'/Have my back, yeah, every day/Feels like home, stay in bed/The whole weekend."

18. "Daylight": In this last track on the album, Swift sings about having a new outlook on life and on love. "I once believed love would be burning red/But it's golden," Swift sings, referencing her past album Red. "Like daylight, like daylight."
At the end of the track, Swift informs her listeners, "You gotta step into the daylight and let it go."
T.Swift's seventh studio album, Lover, is available now.
Don't miss E! News every weeknight at 7, only on E!
Source: Read Full Article