JoJo Siwa was born to be in the spotlight. With more than 10 million followers on Instagram, 12 million on YouTube, and upwards of 34 million on TikTok, the life of the dancer, singer, and bonafide ball of energy revolves around her public image and her interaction with the world. The young star started performing before she could barely put words together, showing the spotlight is where she belongs.
Siwa gained widespread recognition in 2013 when she was cast in the Lifetime dance reality show "Abby Lee's Ultimate Dance Competition", a spinoff of "Dance Moms." The 9-year-old and youngest star of Season 2 was eliminated during Week 9, placing fifth overall, as People noted. Two years later, Siwa returned to the small screen with her mother, Jessalynn, for two consecutive seasons of "Dance Moms" in 2015 and 2016, both of whom became key participants of the show. "I would say it's my mission in life to make JoJo a star," Jessalynn once said (via People).
Siwa quickly proved she shines in front of the camera, no matter what she is doing. Even as a teenager, she could nail down interviews like she had been doing it all her life. "During shooting, the crew would gather in the control room to watch JoJo's interviews live because they were so compelling," Bryan Stinson, producer of "Dance Moms," told Rolling Stone. She may young, but she has matured quite a bit over the years. Read on to see her transformation!
Jojo Siwa began competing when she was two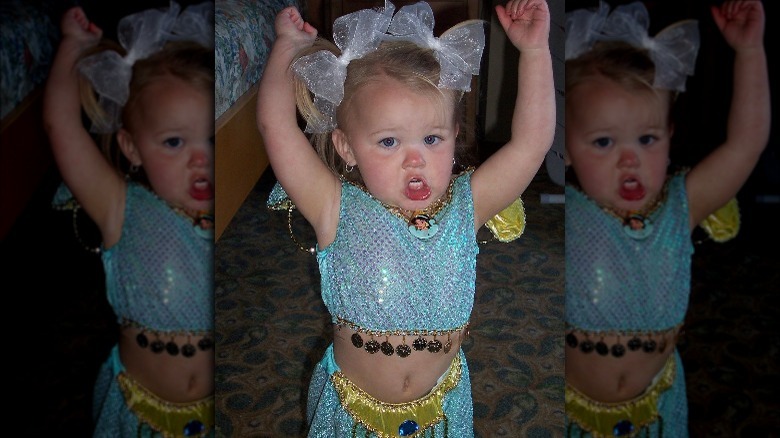 As the daughter of a dance instructor and owner of a studio in Omaha, Neb., JoJo Siwa has been dancing since she the diaper days! "From the time she could walk, JoJo was at the studio every day, hanging out with me," Jessalynn Siwa told the Telegraph Herald in 2013. JoJo was only two when Jessalynn entered her in her first dance competition, and the toddler had a blast. "She loved it. That's when I knew this was going to be fun," Jessalynn said.
While Jessalynn fostered her daughter's natural skills for the performance arts, she noted JoJo Siwa's love for dance was all her own. "When my husband would come pick her up at the [dance] studio, she would not want to leave at night. She was two years old; couldn't even dance or do anything. She was like, 'I just want to stay with you," Jessalyn told Rolling Stone.
JoJo was just one-and-a-half when she developed her first original choreography. Jessalynn dubbed it the "hottie dance," as she would sprinkle glitter on JoJo as she showed off her moves to the song "Mama, I'm a Big Girl Now" from "Hairspray," per Rolling Stone. JoJo often shares photos of herself as a baby and as a child on Instagram, many of which show her in different costumes and, of course, bows. 
JoJo was homeschooled, which allowed her to practice and audition
Jessalynn Siwa saw the potential in her daughter. She opted to homeschool JoJo Siwa, who was dancing between five and six hours a day by the time she was nine, per the Telegraph Herald. Jessalynn's encouragement and the proactive steps she took to let JoJo dance as much as she could allowed her to audition, and eventually, snag a spot on "Abby's Ultimate Dance Competition" in 2013. "Being the youngest on the show is actually an advantage and so is being home-schooled, so I have time to dance every day," JoJo told the Telegraph Herald while on Season 2 of the show.
At that time, JoJo wanted to grow up to be a professional dancer and perform on Broadway. Jessalynn said she didn't care what her daughter did. "Her future? I just want both my children to be happy when they grow up and to keep their lives in perspective," Jessalynn told the Telegraph Herald. But she did think her daughter would be an all-out star. "To this day, [JoJo and I] joke about it, and I'm like, 'I really thought you were gonna be Hannah Montana when you were five, and here we are,'" Jessalynn told Rolling Stone in 2019.
But Jessalynn's ambitious attitude on "Dance Moms" was often criticized. "I think you have some deeper issues … I think you are doing detrimental harm to her," Abby Miller said on the Season 5 reunion. 
JoJo Siwa gained a massive following on YouTube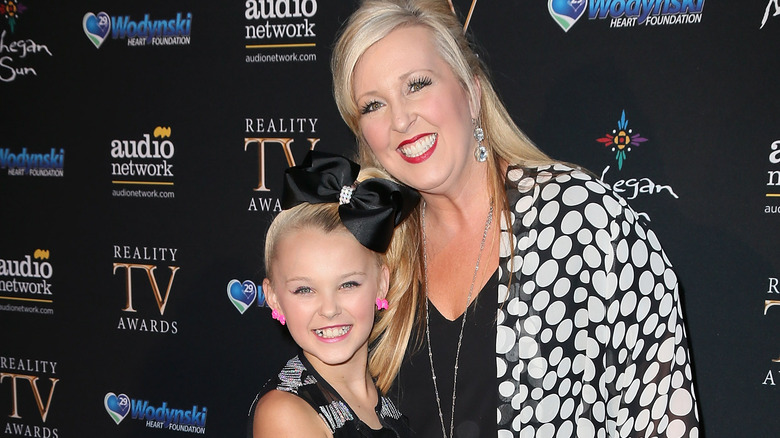 JoJo Siwa also displayed her mother's competitiveness on "Dance Moms," for which she became known. After her big break on the dance show, JoJo began uploading videos to YouTube in 2015, mainly to answer questions from "Dance Moms" fans and give her side of the story, so to speak, as Rolling Stone detailed. By that time, she had moved to Los Angeles, Calif. with her mother, Jessalynn, while her father, Tom, and older brother, Jayden, stayed in Nebraska so he could finish school. 
She let fans in on her life, touring the one-bedroom apartment she shared with Jessalynn in Glendale and participating in popular internet contests. YouTube proved to be the perfect platform for JoJo to build her brand. Soon, her channel was one of the most-followed on YouTube, Insider noted. "I never forget where I came from with YouTube. I wouldn't be where I am today without it," JoJo told Rolling Stone.
In 2016, JoJo broke out into the music scene with her single, "Boomerang," in which she addressed the issue of bullying. Though she was mainly homeschooled, JoJo returned to public school for a semester in third grade and witnessed peers bullying students constantly, per Rolling Stone. She then began to experience virtual bullying on social media as she gained popularity. "[E]very day people comment, 'You're fat, you're ugly, you're rude, you're all this stuff … I don't want anyone to have to go through that," she told Billboard.
JoJo Siwa became a businesswoman at 13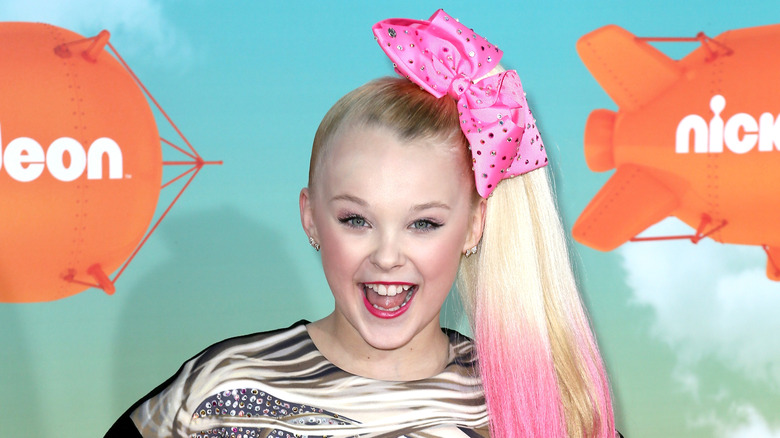 In 2016, when JoJo Siwa was 13, her manager Caryn Sterling encouraged the rising star to develop her personal brand, Rolling Stone detailed. JoJo naturally had what it takes, which is a signature look and a solid social media following. Known for wearing giant bows on her side ponytail and vibrant colors all around, JoJo had, possibly unconsciously, been doing it already all her life. "[Sterling] wanted JoJo to be a brand. And I'm like, 'I'm in. Let's do it,'" Jessalynn Siwa told the publication.
Sterling had contacts in the accessories industry because her own daughter had been creating jewelry, according to Rolling Stone. So she and JoJo began to work on a line of bows for a business venture in partnership with Claire's. It was a hit. As Rolling Stone reported, the line generated record-breaking profits for Claire's. "JoJo came at such a critical moment in time, knowing that kids were so influenced by their phones," senior global license buyer Julie Splendoria told the magazine.
The bows so were popular in the U.S. and beyond, that middle schools in the U.K. banned them for being deemed a distraction and breaching uniform policies, the BBC reported in 2013. Shortly after, JoJo signed a deal with Nickelodeon that led to a series of products, including a doll, a beverage, a clothing line, slime, and more. JoJo had indeed become a brand — and easy one to sell!
JoJo Siwa came out as queer in January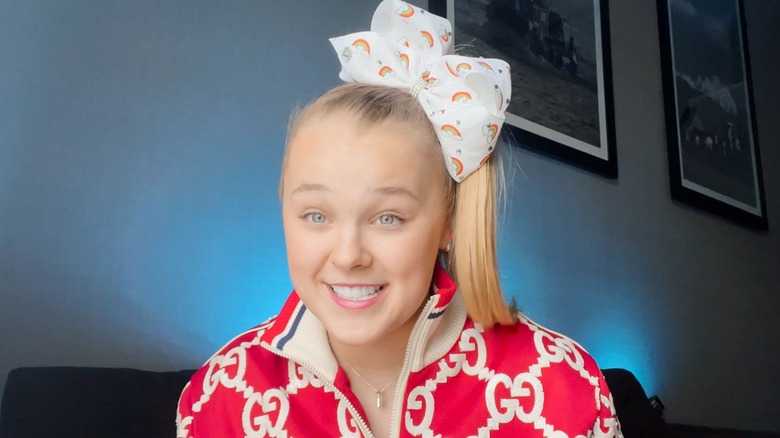 After dating fellow TikTok personality Mark Bontempo for a few months in late 2020, JoJo Siwa revealed that she belongs to the LGBTQ+ community in January. Speculation about her sexuality arose after she posted a video to TikTok of herself dancing to Lady Gaga's "Born This Way," which is considered an LGBTQ+ anthem by many, as Variety detailed. A day later, she shared a photo on Twitter of herself in a shirt with the words "Best. Gay. Cousin. Ever," noting her cousin had given her the garment as a present. 
Being 17 at the time, it is perfectly understandable that she didn't want to use a specific label. When a fan asked her to define her orientation, she said she "doesn't really know this answer," as People reported. She argued that what matters is how happy she is to be in a relationship with Kylie Prew, according to CNN. "I still don't know what I am. It's like, I want to figure it out. And I have this joke. Her name is Kylie. And so I say that I'm Ky-sexual," she said, adding that likes to use "queer" and that
"[t]echnically I would say that I am pansexual."
Jessalynn Siwa and her family, in general, has been nothing but supportive. "My mom said she's known for the last two years … she was like, 'I don't think you only like boys, that's totally okay,'" JoJo said (via People). "My family is awesome."
Source: Read Full Article