Robert Kirkman concluded his zombie comic book series with a surprise ending this week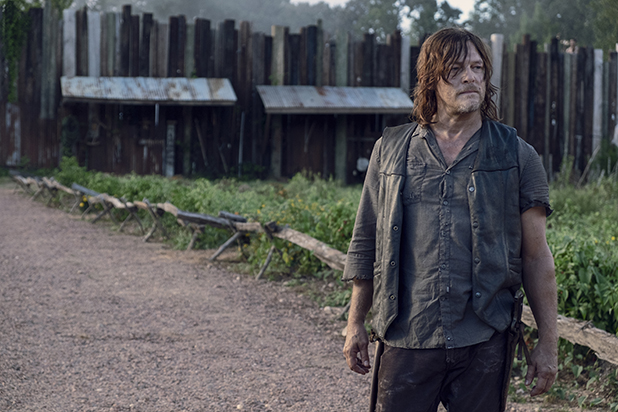 Gene Page/AMC
AMC praised Robert Kirkman's "The Walking Dead" comic book series on Tuesday following news that the creator would conclude the book's run this week with a surprise ending in issue #193.
"This extraordinary comic created a world that already lives in multiple forms, and in the hearts and minds of millions of fans around the world, and will for many years to come," the network said in a statement.
The comics provided the basis and inspiration for AMC's hit TV show of the same name, which is about to enter its 10th season and has spawned two spinoffs and a planned series of movies set in the same universe.
In the final pages of Wednesday's issue of the "Walking Dead" comic book, Kirkman revealed that the issue would serve as a surprise ending to the Image Comics/Skybound Entertainment series, which was first published in 2003.
"In a way, killing this series has been a lot like killing a major character. Much, much harder… but the same feeling," he wrote. "I don't WANT to do it. I'd rather keep going… But the story is telling me what it wants and what it needs. This needs to happen. Whether I want it or not."
Kirkman's comic series served as the basis for the show and many of its characters and plot turns, but in the nine seasons since its premiere in 2010, AMC's "The Walking Dead" has deviated from its source material quite substantially.
The success of the show has also spawned a "Walking Dead" universe, helmed by former showrunner Scott M. Gimple. In addition to spinoff "Fear the Walking Dead," currently in its fifth season, it also includes a third spinoff in development and a series of movies centered around Andrew Lincoln's Rick Grimes.
Angela Kang is showrunner on "The Walking Dead" and executive produces alongisde Robert Kirkman, Gale Anne Hurd, Dave Alpert, Greg Nicotero, Tom Luse and Denise Huth.
Source: Read Full Article