"I've tried," Reeves added in a "Late Show With Stephen Colbert" appearance
"I've tried," Reeves added. "I would love to." Watch the rest of Reeves interview with Colbert in the embed above.
First introduced in "The Saga of Swamp Thing" in 1985, John Constantine is one of DC Comics' most popular characters. Constantine, an occult con man and detective, has led the company's "Hellblazer" series since 1988.
The character has been brought to life on screen twice before, with Reeves portraying him in the 2005 film "Constantine" and Matt Ryan leading a series reboot at The CW in 2014. The CW drama was axed after just one season, but Ryan later reprised the role on DC's "Legends of Tomorrow" and voiced an animated version of the character for CW Seed.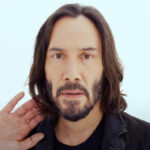 While the "Constantine" sequel might not be in the works for Reeves, he also promoted "BRZRKR" on Colbert which will see Reeves play his own comic book character in the Netflix adaptation of the graphic novel he created.
Reeves is set to star in and produce the live-action film based on "BRZRKR," a BOOM! Studios comic book series that launched earlier this year. Along with the feature film, Netflix will also adapt "BRZRKR" into a subsequent anime spinoff series. Reeves will lend his voice to the series, too, which will expand the universe and explore different elements of the story.
"BRZRKR" was co-written by Reeves and Matt Kindt, with illustrations by Marvel artist Ron Garney and colors by Bill Crabtree, letters by Clem Robins and character designs and covers by Rafael Grampá.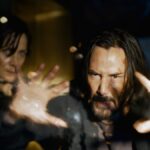 "BRZRKR" is a brutally epic saga about an immortal warrior's 80,000-year fight through the ages. The man known only as "B" is half-mortal and half-god, cursed and compelled to violence, even at the sacrifice of his sanity. But after wandering the earth for centuries, B may have finally found a refuge — working for the U.S. government to fight the battles too violent and too dangerous for anyone else. In exchange, B will be granted the one thing he desires — the truth about his endless blood-soaked existence, and how to end it.
Source: Read Full Article