Marvel fans had to go through a range of emotions to watch Avengers: Endgame. Now many will go into Spider-Man: Far from Home to see Peter Parker (Tom Holland) dealing with his new normal.
The new movie follows the teenager as he is returning to school wanting to escape from his superhero duties and focusing on the death of Tony Stark (Robert Downey Jr.) Luckily there is a school trip to Europe, which seems like the perfect way to do that. Unfortunately, he gets pulled into a mission with Mysterio or Quentin Beck (Jake Gyllenhaal.)
Tom Holland handles the tough balancing act of a torn Peter Parker perfectly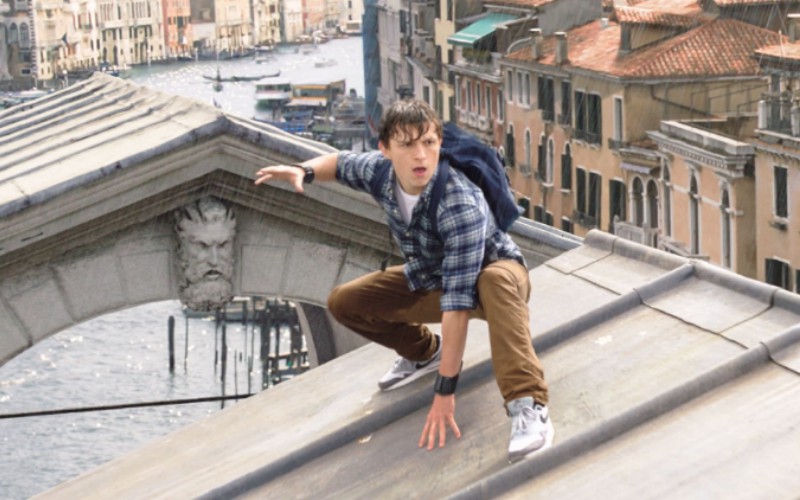 It's probably no surprise by now that Holland is once again great at playing the smart teenager in this new movie. We have seen Peter Parker want to go beyond his neighborhood duties before. Now he wants to escape from them completely.
This is understandable given we see multiple people question if he's going to be the new Iron Man. The weight of that question is very much on his shoulders, but the movie still manages to be light and fun.
That's because the writing of all of the characters is strong. The younger cast feels very much like real teenagers trying to figure out romance. They all are clumsily doing so and the adults aren't doing much better, which leads to a lot of funny and sweet moments.
Jake Gyllenhaal is a great addition to the Marvel Cinematic Universe
https://www.instagram.com/p/BxxBZWcHXlE/
Jake Gyllenhaal is one of the newest people to enter the Marvel Cinematic Universe (MCU.) He has transformed for his many roles before so it only makes sense that he handles the dynamic Mysterio well.
Holland and Gyllenhaal are compelling acting partners to watch. Mysterio also is strong when he is interacting with other people, which shows the power of that character. The action scenes involving them takes you on a wild ride. However, he isn't the only scene partner that brings it in this movie.
Zendaya who plays MJ has shown that she's great as the deadpan character before. This movie gives her a little more range and she plays an awkward teenager very well. That mixed with Holland's energy might take older audience members right back to high school in a good way.
This movie readies fans for the next phase
https://www.instagram.com/p/By2ZeN_Fz0_/
Kevin Feige previously revealed that Spider-Man: Far From Home will close Phase 3 of the MCU. That news might strike as odd since Endgame is a huge event, but Peter's journey is about emotionally moving forward.
He has had such a close relationship with Tony and that hangs over the entire movie. The question of what is next for him is answered by the end. It's important to note that you should wait after the credits once again for more scenes.
Spider-Man: Far From Home will make audiences laugh as they heal throughout the story. This movie should bring even more excitement for the upcoming standalone films.
Source: Read Full Article