The wardrobe for Stranger Things tells a story as the Netflix series takes place through various years in the 80s. For Stranger Things Season 4 Volume 1, costume designer Amy Parris went above and beyond for the characters' looks, especially Eddie Munson's DIO jacket. Fans may not know how Parris scored an authentic piece of heavy metal memorabilia.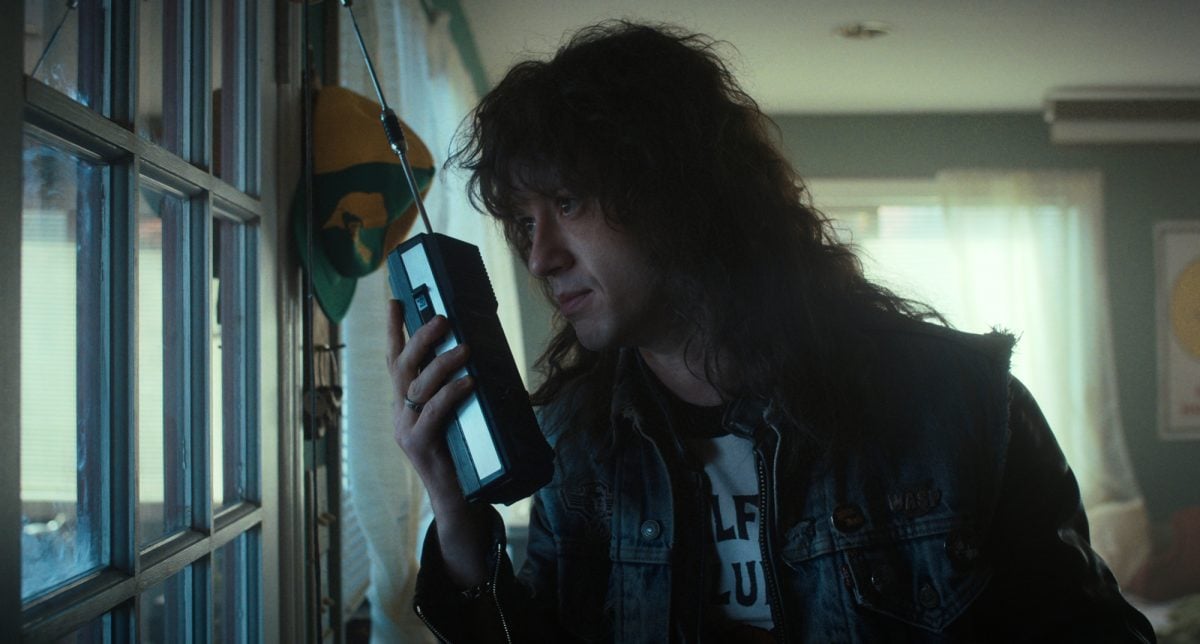 Eddie Munson is a hard rocker amid the Satanic Panic of the 80s
Fans got their first teaser of the darkness that awaited them during the third season's finale. News reports claimed Hawkings might be cursed, or there is a more significant satanic reason at play. The fourth season focuses heavily on the Satanic Panic craze where metal music, horror movies, and D&D were seen as devil work.
Eddie Munson is a critical figure portraying the craze and embodies everything parents and society ridiculed. In the first episode, Eddie reads a Newsweek report about D&D leading to satanic worship, murder, and more. Overall, Eddie was made to embody the Satanic Panic craze, even his backstory. He loves metal music, D&D and has an overall delinquent appearance.
His ensemble represents his interests like the Hellfire Club shirt, skull rings, leather jacket, and black handkerchief. But Eddie's sleeve cut-off DIO jacket in Stranger Things Season 4 is genuine from Ronnie James Dio's estate.
Amy Parris reached out to Dio's wife to get clothing for 'Stranger Things' Season 4
In the first episode of the season, fans get a full shot of Eddie's DIO jacket when he tries to wake Chrissy from her paralyzed state. As Eddie is on the run, he still wears it and kindly gives it to Steve in the Upside Down. The DIO jacket is a part of metal history as Parris got the piece from Dio's estate for Stranger Things Season 4.
"I love Eddie. I think Eddie feels so real. And he's wearing one thing, because he's in that outfit the whole time, so I really focused and zeroed in on making sure everything in that outfit was authentic. He's a fan of wizard metal, he's a fan of Dio. He's a fan of Metallica," said Parris to Tudum. "Actually, Dio was a popular band in the '80s, and we reached out to the estate [of the late Ronnie James Dio to source a band shirt]. His wife is in charge of his estate and offered to send us vintage T-shirts, which was such a dream."
Wendy Dio spoke with Subculture Media in 2020 about movies and series like Stranger Things allowing the musician's legacy to live on. Metal Injections does point out that Joseph Quinn is much taller than Dio, who stood at 5'4. The jacket in the series was likely never worn by Dio but is still an epic piece of metal history.
Eddie Munson's DIO jacket is not the only thing Joseph Quinn did to make the character authentic
The 29-year-old actor had to play a 19-year-old on the small-screen. Quinn went through putting on a beast of a wig and losing a few pounds to appear younger. The actor also had a vocal coach to help him build the necessary American accent for Eddie, making him feel like a sociopath. To The Hollywood Reporter, Quinn revealed he had a lot of creative control over Eddie's look.
Ultimately Parris was the one who added a nostalgic touch with Eddie's DIO jacket in Stranger Things Season 4. But Quinn brings his personal flair to the heavy rocker fans have yet to see. In promo teasers for the second half of the season, fans see Eddie rocking out in the Upside Down.
In an interview with Entertainment Weekly, Quinn reveals, "I've played since I was 7, and I've had huge breaks. I wouldn't consider myself a brilliant guitarist, but I can play it." Along with listening to thrasher metal, Quinn does have a bit of Eddie in him.
Source: Read Full Article