In a sneak peek exclusive to E! News, Masked Singer panelist Jenny McCarthy tries to guess the identity of season 4's most intriguing contestants.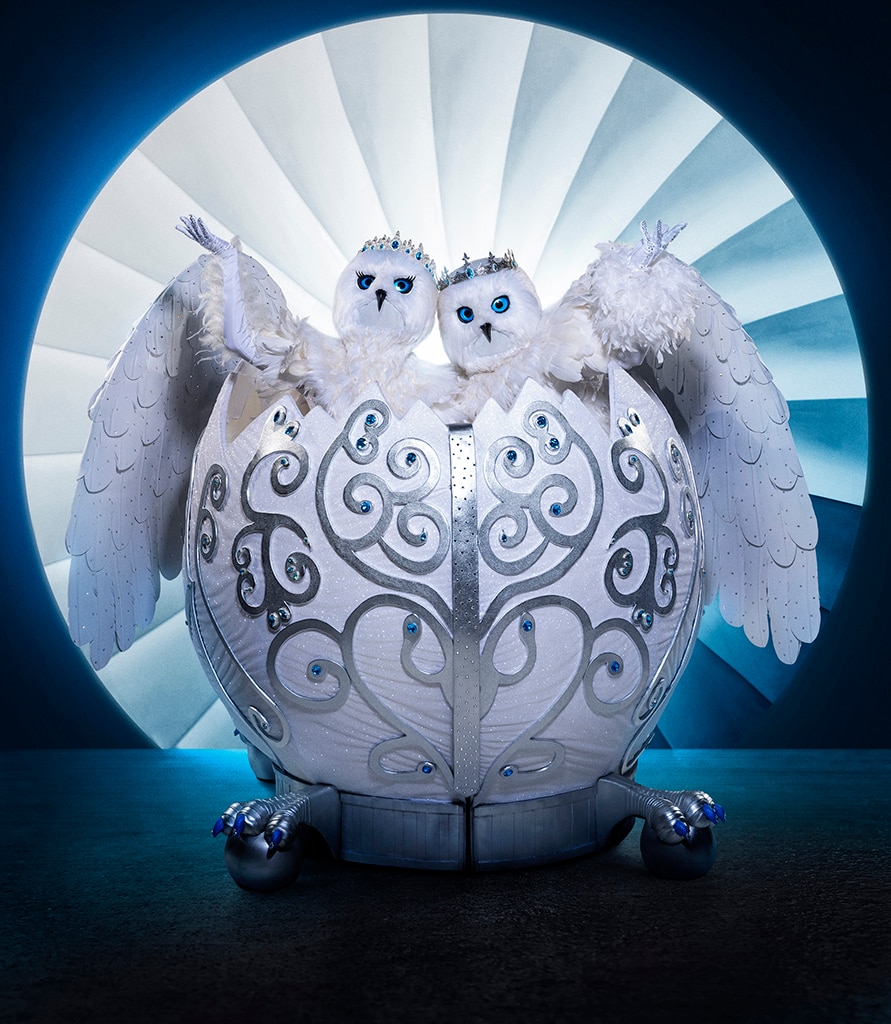 The Masked Singer season four hasn't even begun but we're already desperate to know who at least two of the singers are.
For the first time, the Fox reality juggernaut is featuring a duo who will compete (and be unmasked) as one contestant. They're dressed as Snow Owls and they appear to be a guy and a girl, which seems to be confirmed by our exclusive sneak peek of the premiere. 
In the clip, panelist Jenny McCarthy tries to guess who this pair might be. 
"I immediately thought brother and sister, sitcom, maybe someone like the Bradys?" she says. "Maureen McCormick and Barry Williams?" 
But after she heard the Owls' voices, Jenny thought maybe these Snow Owls also came with another first for the show: a repeat contestant. 
"After hearing them sing, I think it really could be Donny and Marie," she says. Donny Osmond already played a bird as the Peacock in season one, which had Nicole Scherzinger on board too. 
"I was totally thinking the same thing!" she said. "Because he's doing the pecking move just like Peacock."
Watch the clip below!
Trending Stories
Vanessa Bryant Fires Back at Her Mom's "Hurtful" Interview Claims
See the Best Candid Moments Caught on Camera at the 2020 Emmys
Jana Kramer & Mike Caussin's Bombshell Tell All: Read Every Revelation
It would be pretty wild for Donny to return to compete on The Masked Singer a second time, but we wouldn't put it past him or this show. If you asked us who the new generation of Donny and Marie are, we'd say Derek and Julianne Hough. 
But Jenny's mention of a sitcom is also making us wonder if these owls are a real brother and sister or if they just played a brother and sister on TV. If that's the case, the possibilities are a lot more endless. 
Keep up with all the season four costumes (and all the clues so far) by scrolling down! 
"I assure you that even though I may be cold-blooded, I have a warm and glowing flow with H20."
"It's very fitting that I have so many appendages. After all, I'm known for having a lot of hands to latch onto."
"If you want a hint about me, I own who I am. I know my voice can go high, but my dishes go deep."
"If you want to know who's behind the mask, you'll need to figure out who's under my hats."
"Some might say that my career had a magical start."
"If you want to know how I instantly appeared, here's the prescription number to my identity." 
"Check the gremlin manual and you'll see I can thrive when the temperature is a cool 66.5 degrees." 
"Living in the ocean can be dangerous, so it's always good to find a quiet place to hide."
"A special set of keys reversed my game forever. Tic-tac-whoa." 
"I'm a broco-lean, mean, heart-pumping machine. After all, it's how I got my six-pack."
"If you're looking for a hint about this Baby Alien, all you have to do is look to the stars."
"If you want a hot clue to finding my identity, just look into stocks and bonds." 
"You can try and figure out who we are, but as for who is more talented, it's a tie." 
"If you're looking for a hint to my identity, you should know I share something in common with a powerful giant."
"Mirror, mirror on the wall, what makes me the biggest miracle of all?"
"If you're trying to figure out who I am, here's a hint: This sun knows how to shine like a torch even during the freezing winter."
To finally hear them all sing, tune into the season premiere on Wednesday, Sept. 23 at 8 p.m. on Fox. 
Source: Read Full Article