Samuel L. Jackson is a big personality who is a master of reading dialogue for the silver screen in movies such as Pulp Fiction and Jurassic Park. However, he once admitted that he isn't always the easiest actor to work with. Jackson admitted that he has reasons for why he operates on sets for specific reasons. He knows his worth and works that into his contracts and interpersonal communication.
Samuel L. Jackson movies and tv shows
Jackson is one of the highest-grossing live-action actors of all time. His movies collectively brought in over $27 billion at the box office. He first emerged on the movie scene with Spike Lee's Jungle Fever. However, his performance in Quentin Tarantino's Pulp Fiction truly broke him into the spotlight in a huge way, earning him his only Academy Award nomination.
His work spans several types of movies from the Star Wars franchise to Snakes on a Plane. Jackson also entered the Marvel Cinematic Universe (MCU) as Nick Fury. He became so iconic that Marvel changed the character's likeness across all mediums to look like Jackson.
Jackson has had several television appearances over the years, although they aren't as consistent as his film roles. He lent his voice for shows such as Afro Samurai and The Boondocks. However, Jackson will return as Fury in the MCU Disney+ series Secret Invasion.
Samuel L. Jackson admits that some directors have a difficult time working with him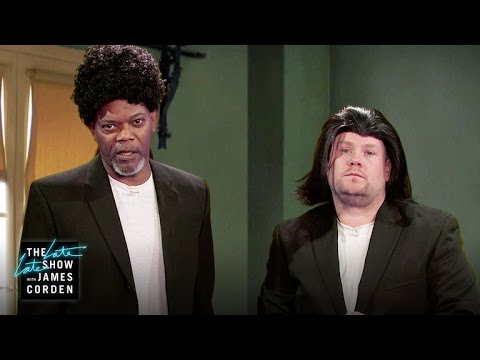 The New York Times interviewed Jackson for a profile covering the vast nature of his career. The legendary actor has a busy schedule, but still works some relaxation into his projects. However, he admitted that some directors aren't so ecstatic to deal with how he conducts himself.
"I can be a hard taskmaster for some directors," Jackson said. "I'm at that point where I can say, 'Uh, you know, that's not going to be in the movie, right? We already got it, we got it when we did this, that and that. I'm not going to do that.'"
Jackson knows his worth and demands the respect that he deserves as an actor. He works into his film project contracts that he should always have the option to go golfing twice a week. This allows the actor to decompress and work his relaxation into his schedule. Additionally, he refuses to do extra takes that won't matter in the final product.
Jackson continued: "Then they want to call my agent. Call whoever you want, 'cause I'm not going to do that.'"
Honorary Academy Award-winner
Jackson surprisingly hasn't ever won an Academy Award. His performance as Jules Winnfield in Pulp Fiction got him close, but he lost out to Martin Landau for Ed Wood. Jackson was never nominated again after that. However, he has an extensive film career that audiences love to follow.
The Pulp Fiction actor earned attention at the 2022 Academy Awards ceremony. He will receive the Honorary Award at the Oscars to award him for an excellent filmography that contributed a lot to the filmmaking industry. However, Jackson doesn't intend to retire any time soon, so he still has the potential for another Oscar nomination in the future.
Source: Read Full Article